This is the French Riviera itinerary you'll want to steal… and you can!
The French Riviera – or Côte d'Azur – evokes postcard-perfect images of sun-drenched beaches, luxurious resorts, delectable seafood, palm-fringed boulevards, provencal hamlets, and dreamy panoramas. This glamorous stretch of Mediterranean coastline is located in France's south-eastern corner and part of the sought-after Provence-Alpes-Côte-d'Azur region.
The perfect French Riviera trip starts here. We've drawn from our experience to bundle the best of the French Riviera in one amazing itinerary. It includes the most amazing viewpoints, glorious beaches, iconic French Riviera cities, and pretty perched Provencal villages all dotting the same coastline that has inspired several world-renowned painters and poets.
This sample itinerary is based on our expert knowledge of the region. It's the result of about a dozen of visits to this glittering stretch of coast.
Our French Riviera itinerary begins in Nice, from where you'll be visiting some of the most picturesque resort towns and beaches in the South of France such as Menton, Èze, Monaco, Saint-Jean-Cap-Ferrat, Villefranche-sur-Mer, Antibes, and Saint-Paul-de-Vence. It then moves westward to the glamorous hotspots of Cannes and Saint-Tropez. You'll end your French Riviera road trip in the spectacular Calanques National Park located right in between Cassis and Marseille.
We've also got you covered when it comes to accommodation thanks to a hand-picked selection of fabulous French Riviera resorts and hotels, most of which we've experienced ourselves throughout the years.
…
Affiliate links are sprinkled throughout the site content. Clicking on such a hyperlink and booking on the accommodation platform it refers to, may result in a commission for CosmopoliClan at no additional cost to you. As Amazon Associates, we also earn from qualifying purchases. For more information, visit the Disclaimer page.
…
Short on time? Here's our French Riviera map that outlines this 10-day itinerary:
Where is the French Riviera?
There's no consensus as to where the French Riviera starts. Some consider the starting point to be St-Tropez but others like to think it's Toulon, Cassis, or even Marseille. Regardless of where it starts, this glamorous Mediterranean coastline ends in Menton, right at the Italian border.
For this French Riviera itinerary, we'll focus on the coastline between Marseille and Menton. In addition, we'll mention some beautiful stops beyond this route as well just in case you consider extending your stay in the South of France.
Stay tuned because we also plan on publishing a South of France road trip itinerary soon for those who can't get enough of this fabulous region.
Getting around the French Riviera
Although the French Riviera offers an excellent railway network, this French Riviera itinerary is a road trip itinerary. This was our childhood playground during the summer holidays and we only ever visited the French Riviera by car.
Not only is it convenient, but it also allows you to experience the French Riviera at your own pace without losing sight of the beauty that lies in between the various stops. This counts as one of the most scenic road trips in Europe after all. Driving offers the opportunity to stop at yet another jaw-dropping panorama or to visit that secluded beach or mountain-perched village that you read about.
Discover Cars is our go-to European car rental comparison site. The prices are highly competitive, the booking process is effortless and you can even select a pay later option that comes with free cancelation. Click here to get the best car rental deal. Depending on the airport of your arrival, you could rent a car in either Nice or Marseille.
We did design this itinerary in a way that allows opting for the train instead of a car for the first few days. Continue reading to find out more.
Best time to visit the French Riviera
Late spring is the absolute best time to visit the French Riviera. The weather is pleasant, the sea water is just warm enough for a cooling swim yet the temperatures are mild enough to comfortably discover the city or go hiking.
But there's a catch: If your French Riviera stay happens to coincide with the Monaco Grand Prix and Cannes Film Festival, both of which take place around the end of May, then you'll have to deal with limited availability and high accommodation rates throughout the French Riviera.
June is hands down the best time of year to visit the French Riviera since it falls right between these high-end events and the busy summer season.
If you can't avoid the summer months of July and August, because of school holidays for example, then don't let that stop you from visiting. We spent multiple summers in Southern France and still got to experience it to the fullest. Just prepare for higher rates, crowded beaches, and busier restaurants.
Early September is another great time to visit the French Riviera. The tourists have wrapped up their vacation and the crowds are noticeably lower. The weather is still pleasant and the sea is at its warmest.
Whether you choose to travel to the French Riviera in spring or summer, this beach vacation packing list will surely come in handy.
Now that you know where, how, and when to visit, it's time to discover the ultimate French Riviera road trip itinerary.
French Riviera road trip overview
Here's an outline of this 10-day sample itinerary that starts in Nice and ends in Marseille.
The stops in this French Riviera itinerary are Nice Monaco Menton & Èze Villefranche-sur-Mer & Saint-Jean-Cap-Ferrat Antibes & Saint-Paul-de-Vence Cannes St-Tropez Cassis Marseille.
French Riviera map with our suggested route
For your convenience, we custom-made this map of the French Riviera which includes all stops mentioned in this article.
Total distance
The overall distance and driving time from Menton to Marseille is 230 km (142 mi) and takes about 2.5 hours to complete. That doesn't, however, take into account detours to some of the villages mentioned. For more accurate daily distances and driving times per section of this French Riviera road trip, we invite you to consult the actual itinerary in the next paragraph.
Car rental days
This French Riviera itinerary requires a rental car from day 3 (or 4 or 5) to day 10. Click here to compare the best car rental deals in Nice. Note that this route involves either a different pick-up (Nice) and drop-off location (Marseille) for your rental car or an extra 2h-ish drive from the final destination to the starting point.
French Riviera hotels
You'll want to avoid the hustle of checking in and out every day. That's why this itinerary suggests spending 5 nights in Nice, 1 night in Antibes or Juan-les-Pins or Cannes, 2 nights in St-Tropez and 1 night in Cassis. Feel free to and 1 or more optional nights in Marseille.
This itinerary also includes some of our favorite dining experiences. Do note that booking ahead is recommended, especially in the high season.
10-day French Riviera road trip itinerary
Now that you're familiar with the outline of this French Riviera itinerary, it's time to discover each destination individually. In addition to the highlights of every destination, you'll also find our recommendations on where to stay on the French Riviera and where to eat.
Day 1: Arrival in Nice
Welcome to the Côte d'Azur! Your French Riviera itinerary starts in beautiful and lively Nice. This is the day of your arrival, so the planning is kept light. We have 4 hotel suggestions on where to stay in Nice:
Oh, and we highly anticipate the opening of the Anantara Plaza Nice.
Walk along the Promenade des Anglais, the city's famous boardwalk, and take in the atmosphere. Have lunch or an afternoon treat at one of the beach restaurants – our favorite hang-out is Beau Rivage Plage – and maybe even rent a lounge chair for part of the day. Before dinner, you could climb the stairs to Castle Hill and take in the most amazing bay views before exploring the Old Town called Vieux Nice.
For dinner, we warmly recommend the fish restaurant Bocaccio in the Rue Masséna. We've been there several times and have always been blown away by the quality of the food and the impeccable service. Try their marmite du pêcheur bouillabaisse style or the delicious seafood paella (which – hands down – surpasses some of the paellas I had in Valencia).
Note that you'll be based in Nice for the first part of this itinerary. This wonderful French Riviera city will be from home for the next 5 nights as you take day trips from Nice to explore the direct vicinity.
Day 2: Nice
Start your day with a lovely breakfast in your hotel or near the Promenade. The breakfast buffet at the Hyatt Regency Nice Palais de la Méditerranée is wonderful. Another option is Balthazar, at the corner of Rue Halévy, which offers breakfast all day and has many healthy options.
Take tram number 1 to the end station Hôpital Pasteur and you'll arrive in the Cimiez district. Admire the architecture of the Excelsior Regina, where the English Queen Victoria spent her summers and visit the archeological museum and the monastery with its wonderful panoramic garden. Cimiez is also where you'll find two of Nice's most renowned museums: the Matisse Museum and the Chagall Museum.
From there, it's a 25-minute walk back to the center of Nice. Visit the flower market at the Cours Saleya in Vieux Nice or learn about the history of Nice at the Villa Masséna Museum.
We have two dining suggestions for you. The best food experience with a gastronomic touch can be found at Restaurant Le Panier in Vieux Nice. For the most dreamy setting, we suggest you head to Le Plongeoir, the most instagrammable restaurant in Nice located on a rock.
Day 3: Monaco
You could pick up your rental car in the morning and drive your way to Monaco. But there's a more convenient to get to Monaco from Nice and that's by ferry. It leaves at 9.30 am from the Quai Lune in Port Lympia and arrives at Monaco's Port Hercule 45 minutes later. The return trip is planned for 5 pm which gives you plenty of time to explore Monaco.
Tickets are available on Viator and on Get Your Guide.
As you probably know, Monaco is not part of France. It's a separate Principality that's bordered by France and by the Mediterranean. Monaco is not part of the EU but does use the Euro (€) as its official currency. Monte Carlo is this tiny but highly affluent Principality's capital.
Head to Le Rocher or The Rock, the promontory that's home to the Old Town as well as the Palais Princier. Every day at 11.55 am you can see the changing of the guards in the courtyard. The Palace itself can also be visited but only during the summer months. Visit the Roman-Byzantine Saint Nicholas Cathedral and take in the panorama from Le Rocher before making your way down to the Place d'Armes.
Have lunch at the La Condamine area, visit the Jardin Exotique or Exotic Garden, and do some (window)shopping before heading to the world-renowned Monte Carlo Casino.
If you arrived in Monaco by ferry, then don't forget to show up for your return trip. If you opted to drive, then there's plenty of time to enjoy a lovely dinner with a view at Caffè Milano before heading back to Nice.
Distance from Nice to Monaco: 20 km (12 mi) which corresponds to a 27-minute drive.
Day 4: Villefranche-sur-Mer & Saint-Jean-Cap-Ferrat
This is a day trip that could easily be done by train if you haven't picked up your rental car yet.
Your program starts in Villefranche-sur-Mer, which is just a short train ride from Nice. It's one of the most picturesque towns on the French Riviera, with colorful houses that are arranged around a beautiful bay. Villefranche-sur-Mer is also home to one of our favorite French Riviera beaches. Plage des Marinières is sandier than some other beaches in the area and the aquamarine waters tend to be much calmer.
Our next destination for the day is Saint-Jean-Cap-Ferrat, which is located just a few kilometers from Villefranche-sur-Mer. You could visit by car but where's the fun in that? We suggest you rent a bike in Villefranche-sur-Mer. Reserve your vélo at Eco-loc and bike your way to Saint-Jean-Cap-Ferrat.
This glamorous peninsula is an exclusive playground dotted with luxurious villas on pine-tree-dotted lands. The bays hide some of the most scenic beaches on the French Riviera, such as Plage Cros dei Pin, Plage des Fossettes, and Plage de la Paloma. Saint-Jean-Cap-Ferrat's town center is picture-perfect in every way.
The absolute highlight is Villa Ephrussi de Rothschild. This fabulous palace with its hilltop location is home to nine themed gardens, one more beautiful than the other. Whether you overlook the Mediterranean from one of the balconies or the gorgeous tearoom terrace, the sea views are out of this world.
For dinner, head to restaurant Mademoiselle in the heart of Saint-Jean-Cap-Ferrat or take your pick from one of the seafood restaurants overlooking the port of Villefranche-sur-Mer.
Distance from Nice to Saint-Jean-Cap-Ferrat: 10 km (6 mi) which corresponds to a 20-minute drive.
Day 5: Menton & Èze
Pick up your rental car if you hadn't already. Your last day trip from Nice is one to Menton, the colorful little Riviera town tucked away between Monaco and Italy. Because of its unique location, it's a unique melting pot of French, Monegasque, and Italian influences. Stroll the picturesque streets, discover the Plage des Sablettes boardwalk, or visit the Jean Cocteau Museum.
Enjoy lunch here before heading off to Èze, the medieval mountain-perched village that seems to come straight out of a storybook. Meander the narrow streets lined by galleries and boutiques housed in authentic stone buildings. One of the best vantage points in one of the most enchanting towns in Provence is the intimate Jardin Exotique. Other highlights are the Notre Dame de l'Assomption church and the Fragonard perfume factory.
What most people don't know, however, is that Èze is not limited to the mountain-top village: there's also the beachfront Èze-Bord-de-Mer. A challenging hiking trail called Chemin de Nietzsche connects both parts of the village. It involves a 2 km (1.4 mi) hike with a 400 m altitude difference.
For dinner, you could either head to the Michelin-starred La Chèvre d'Or restaurant, part of the like-named luxury hotel or enjoy the relaxed yet sophisticated beach setting of the Papaya Beach restaurant. Whichever option you choose, sunset views over the Mediterranean are guaranteed.
Distance from Nice to Antibes: 29 km (18 mi) which corresponds to a 33-minute drive.
Day 6: Antibes & Saint-Paul-de-Vence
Check out from your hotel in Nice and head over to Antibes, another peninsula located just south of Nice. We have three hotel suggestions for you, one for every budget. You'll only be spending one night here.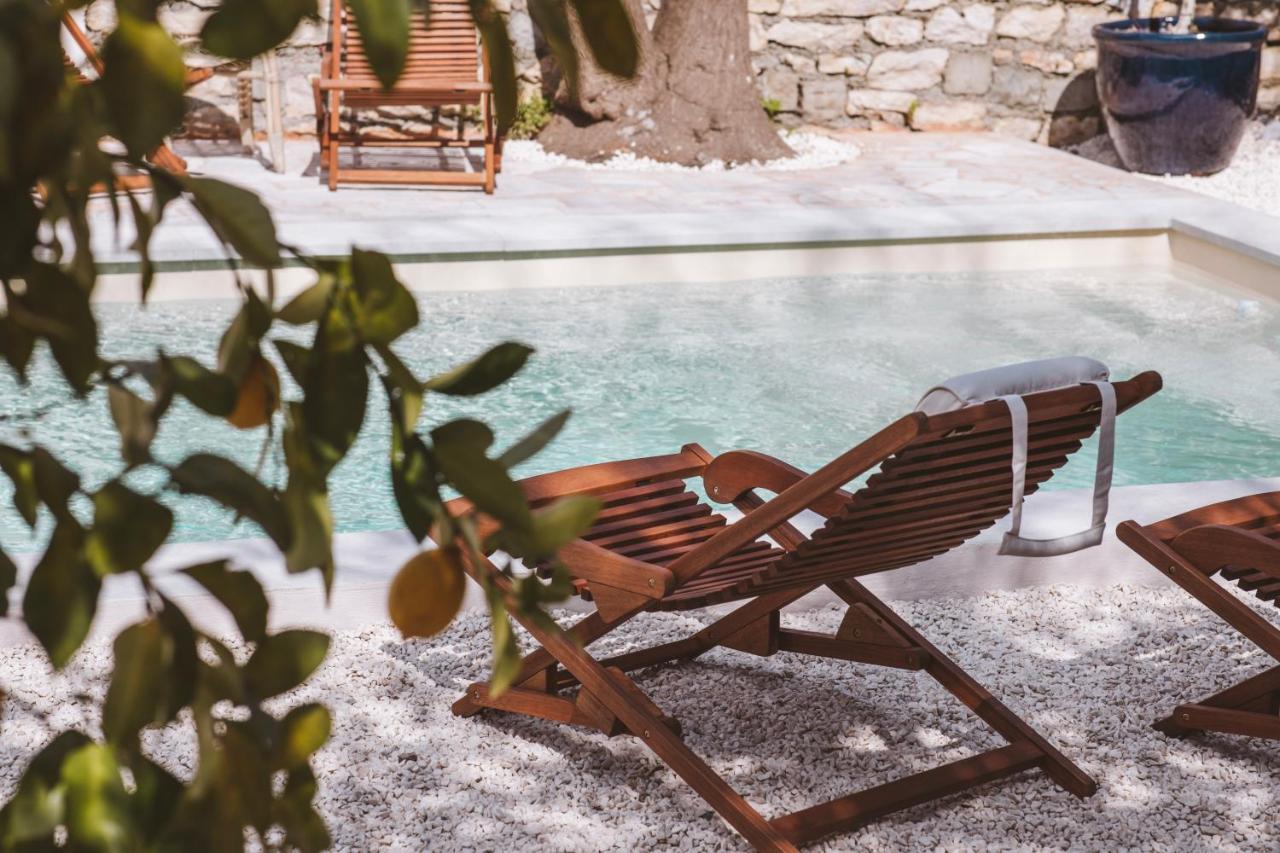 Soak up the atmosphere in Antibes's old town with its enchanting squares and winding streets. Be sure to visit the provencal market at the Cours Masséna as well as the Safranier district and the Picasso Museum.
Antibes also encompasses the lively Juan-les-Pins resort area known for its Ibiza vibe as well as the all-natural Cap d'Antibes. You'll find some beautiful beaches along this cape as well as one of the most scenic hiking trails on the French Riviera.
It's known as the Sentier du Littoral or Sentier des Douaniers but is often nicknamed the Sentier de Tire-poil or Hair-pulling Trail referencing the wind that messes with the hair. This coastal trail is moderate in difficulty but oh so rewarding and takes about 2 hours to complete. It starts at Plage de la Garoupe and ends at Vila Eilenroc which is home to a beautiful rosary. If you can don't mind the pebbles then the neighboring Billionaires Bay is the perfect place for a refreshing dip.
Restaurant l'Arazur is a wonderful place to dine in Antibes. But, if you're up to it, we'd recommend spending the evening in the walled town center of St-Paul-de-Vence. This perched village is located just a 15-minute drive from Antibes. We warmly recommend the restaurant Le Tilleul. The wonderful setting beneath the linden trees complements the delicious food and impeccable service. Portions are rather small, though, so a three-course meal is certainly recommended.
Watch the sunset from the ramparts or stroll the cobbled streets. It's easy to see why this medieval village has inspired many of the world's greatest artists throughout history, including Matisse, Miro, Modigliani, Picasso, Prevert, and Chagall to name a few. To this day, the streets are lined with art galleries that feature work from artists who draw inspiration from this spectacular decor.
Distance from Antibes to Cannes: 12 km (8 mi) which corresponds to a 20-minute drive.
Day 7: Cannes
Check out from your hotel in Nice and head over to Cannes. The plan is not to spend the night here but rather in Saint-Tropez, where you'll be staying for 2 nights. That means that you'll be leaving your bags in the trunk of the car. Now, Cannes is known to be quite safe but you might want to look for secured parking for your peace of mind.
Start your day in Cannes with a visit to the Forville Market. This is a great place to assemble everything you need for a beach picnic later on. Explore the Old Town of Le Suquet while keeping and see if you can spot some of the street art that decorates the facades. You'll arrive at the Vieux Port or Old Port from where you can continue your way to the Palais des Festivals. This is where the Cannes Film Festival takes place.
You've now arrived at the famous Croisette. Enjoy a picnic lunch on the beach or head to one of the beach restaurants. Take some time to relax before making your way back to the Vieux Port. Hop on the ferry to Île Sainte-Marguerite or Saint-Margeret Island, the largest of the Lérins Islands. We do recommend booking your tickets ahead.
Tickets are available on Viator and on Get Your Guide.
Île Sainte-Marguerite is dotted with wild rocky beaches and is home to a spectacular underwater world. For a change of sight, you could head to the underwater eco-museum where you're invited to snorkel to discover the statues below the water's surface. Île Sainte-Marguerite is also where you'll find Fort Royal, the famous prison where the Man in the Iron Mask was held captive during the time of Louis XIV.
You may want to linger on this slow-paced island… and you can. Dine in one of the two restaurants, restaurant La Guérite or restaurant L'Escale before heading back to Cannes. Alternatively, you could eat out in Cannes. Le Pompon would be our top pick.
After dinner, head to Saint-Tropez to check in to your new hotel where you'll be spending 2 nights. Here are our top suggestions: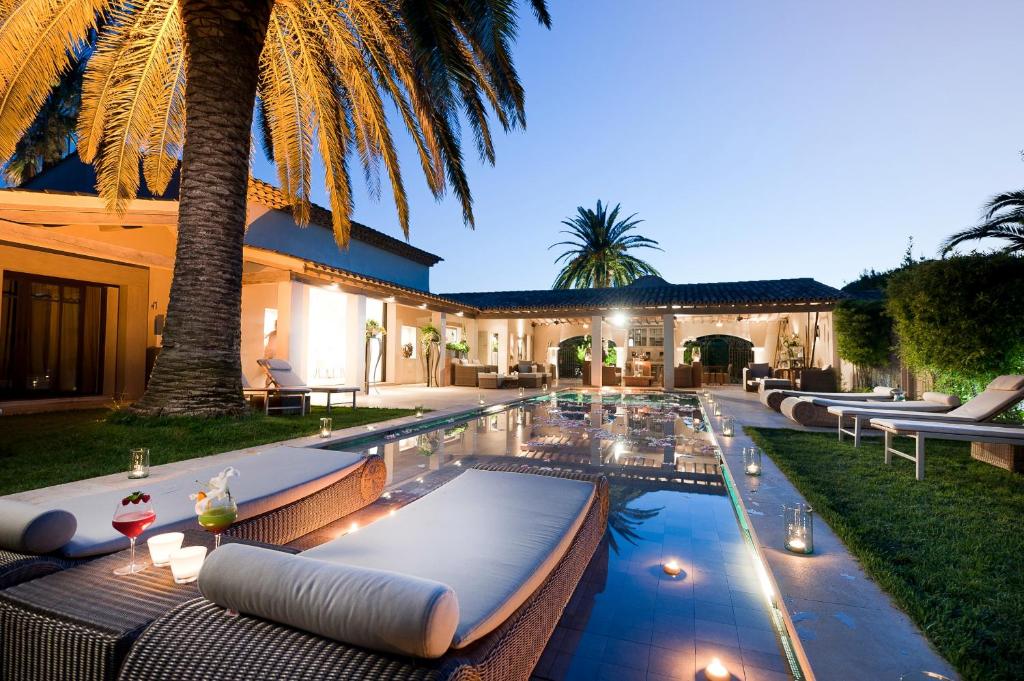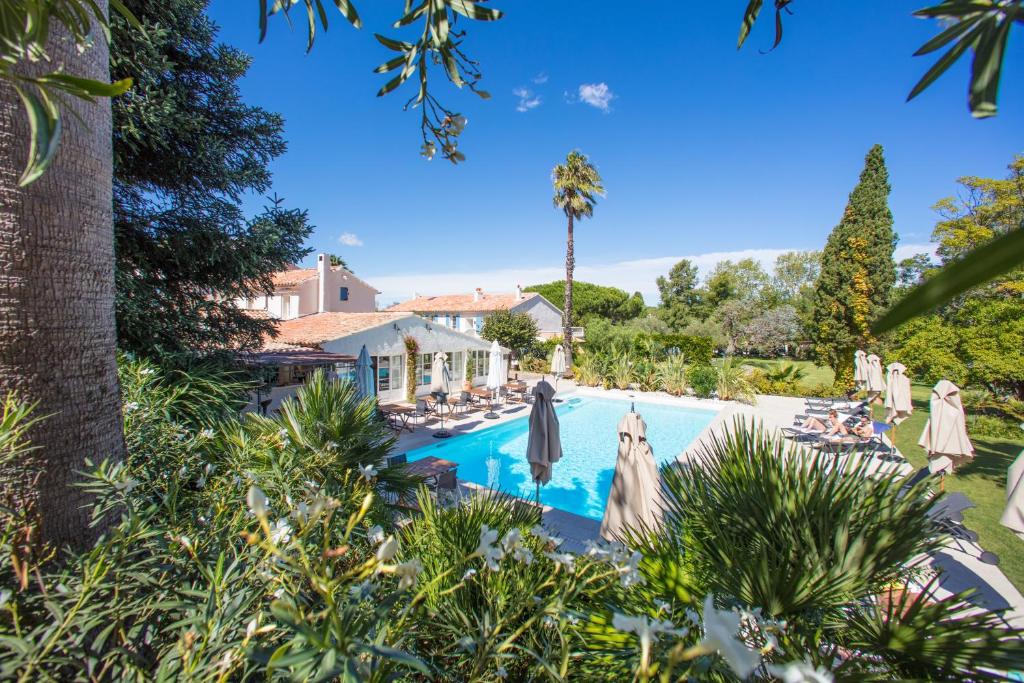 Distance from Cannes to Saint-Tropez: 86 km (54 mi) which corresponds to a 1-hour 18-minute drive.
Day 8: Saint-Tropez
This glamorous peninsula town has a reputation for being the summertime playground for the jet set. But did you know that Saint-Tropez was a tranquil fishing village? It wasn't until Brigitte Bardot's appearance in the 60's movie And God Created Woman (or, in French: Et Dieu… créa la femme) that this town became the celebrity magnet it is today.
Your day in Saint-Tropez will be a relaxing one. Wander the streets of the Old Town called La Ponche while sinking your teeth in a sumptuous Tarte Tropézienne. Stroll the market or watch a game of jeu de boules at the Places des Lices. Climb the steps to the Citadel and take in the views. From there, you can make your way to the marina to admire some of the moored yachts… and maybe dream of mooring your own here one day?
The terraces that line the quay of the marina are perfect for people-watching during lunch. Spend a relaxing afternoon at the beach. The beach clubs that dot iconic Pampelonne beach are the place to be to experience the unique Saint-Tropez vibe. If you're looking for something more down-to-earth, then you'll appreciate one of the more tranquil beaches such as Plage des Salins or Plage de la Moutte.
For dinner, La Ramade or La Table Tropézienne would be our picks. Then you're all set to go clubbing or jet-setting Saint-Tropez style.
Distance from Saint-Tropez to Cassis: 112 km (69 mi) which corresponds to a 1-hour 36-minute drive.
Day 9: Cassis
Check out from your hotel in Saint-Tropez and head over to Cassis. Depending on your travel schedule, this might be the last night of your French Riviera vacation. To make it worthwhile, we've selected 3 fabulous hotels in Cassis to spend the night at: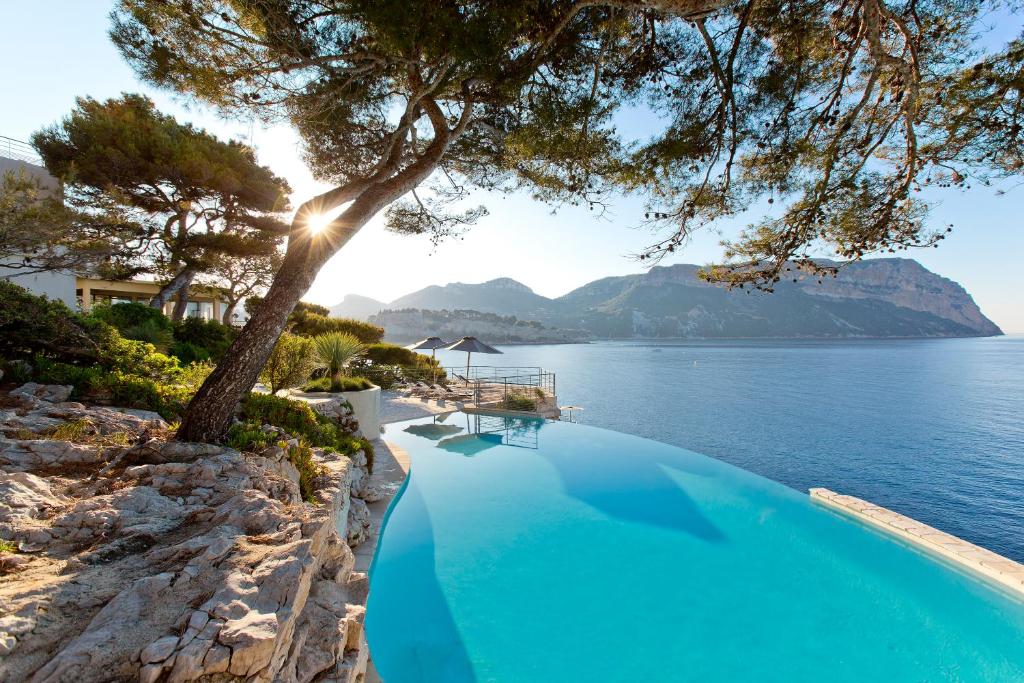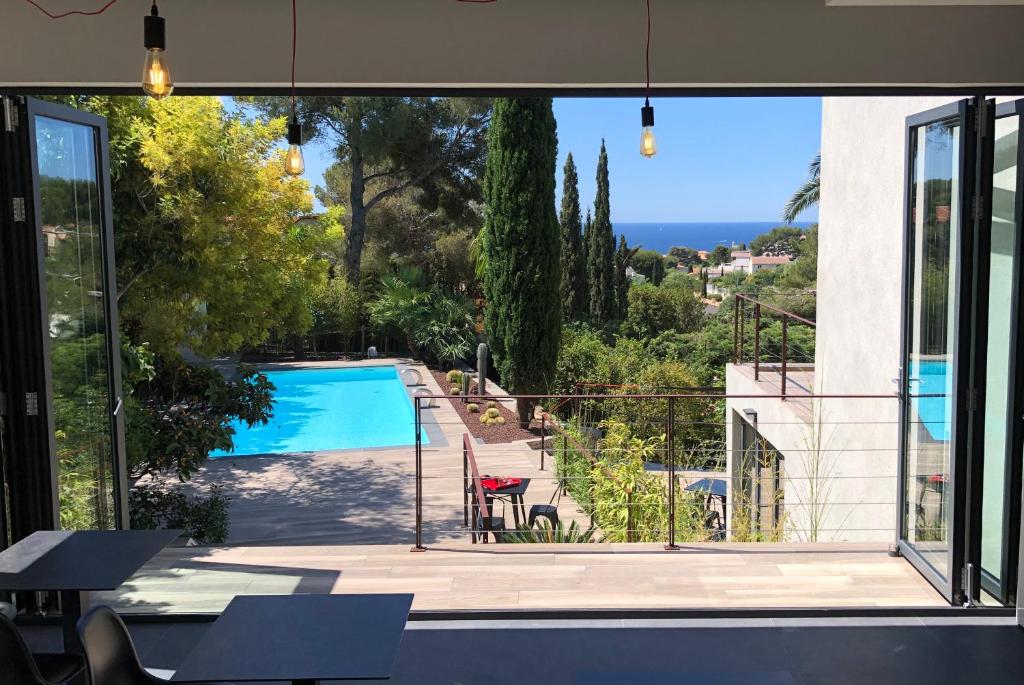 Welcome to a lesser-known but equally scenic part of the French Riviera. Cassis is an enchanting seaside gem that's tucked away between the ochre-hued Cap Canaille mountain and the limestone cliffs of Calanques National Park. The word calanque refers to the rocky inlets that can be found in between the cliffs. They contrast beautifully with the aquamarine waters and the green pine trees that top them.
Nine calanques can be found between Cassis and Marseille. Start your morning in Cassis with a hike to Calanque d'en Vau or Calanque de Port Pin to admire this natural wonder for yourself. Or, if you're looking for a more comfortable experience, take a boat tour to see the calanques from the water.
After your hike, you can pick a spot at one of the bistros that line the quays of the idyllic port. This is the heart of Cassis, where to this day fishermen moor their pointu boats before supplying local restaurants with the catch of the day. Look up and you'll see the Carolingian Château de Cassis. This former refuge was used to protect residents of this charming town from foreign invaders.
Spend a leisurely afternoon wandering the winding streets or watching locals play a lively game of pétanque. End your day in this coastal town with a dinner at La Table de Marie or Chez Poulette and soak up the lively evening atmosphere near the port before returning to your hotel.
Distance from Cassis to Marseille: 32 km (19 mi) which corresponds to a 35-minute drive.
Day 10: Marseille
This may be the last day of this itinerary… although it doesn't have to end here. Why not extend your French Riviera stay a night or two? There are plenty of things to do in and near Marseille to keep you entertained. Here are 3 hotel suggestions for an extended stay in Marseille: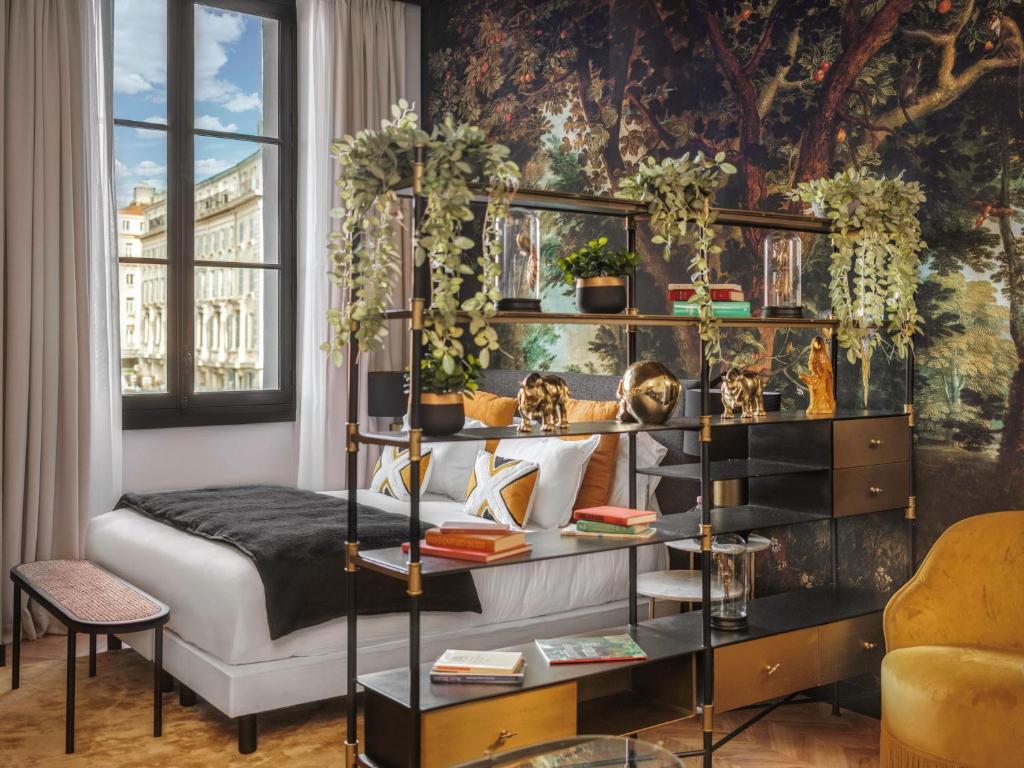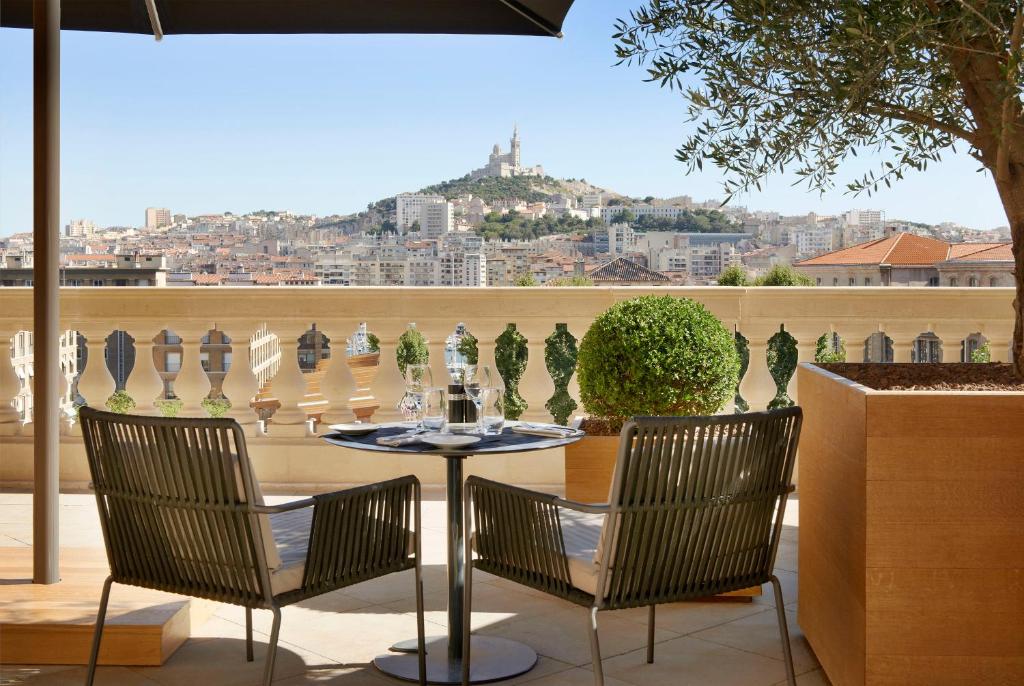 If it is your last day, then you might have your bags in the trunk of the car. Now, Marseille has a reputation for being rather unsafe. So, make sure to park your car at secured underground parking.
Marseille is located on the opposite side of Calanques National Park. When you arrive in the city, we recommend you first check out the Basilique de Notre-Dame de la Garde. Lovingly called La Bonne Mère (The Good Mother) by the city's inhabitants, this famous French landmark towers out over the city from atop a 161 m high cliff. Its most eye-catching feature is the 60 m high bell tower topped with a 10 m statue of the Virgin Mary.
From there, make your way towards the Old Port and park your car in the direct vicinity for the rest of the day. Take your time exploring the Vieux Port and spot your reflection in the mirrored sun canopy.
Then, head to the Le Panier district. This lively and picturesque neighborhood features a colorful mix of pastel-hued houses adorned with colorful graffiti and potted plants dotting the narrow alleys.
Order a delectable bouillabaisse from one of the restaurants that line the quays. Then, explore some of Marseille's cultural sights such as the MuCEM Museum of the Civilizations of Europe and the Mediterranean or the Vieille Charité which houses the Mediterranean Archeology Museum as well as the Museum of African, Oceanian, and Native American Art. Also, stop by the massive 19th century Cathédrale Sainte-Marie-Majeure or Cathédrale de La Major.
And if you have some time to spare, then take a boat excursion to the island of If, known for its Château d'If. Soon after the construction of this 16th-century fortress, which had been commissioned by King François I, it was converted into a prison. It was featured in Alexandre Dumas' novel The Count of Monte Cristo.
French Riviera FAQ
This French Riviera itinerary is quite comprehensive so there's a lot of information to take in. Here are some final tips to help you plan your French Riviera road trip.
Are the beaches on the French Riviera sandy?
It depends. The beaches in Nice, Villefranche-sur-Mer, and Saint-Jean-Cap-Ferrat are pebble beaches. On the east side of the Cap d'Antibes, in Cannes and St-Tropez, you'll mostly find sandy beaches.
How far is the French Riviera from Paris?
Nice is located just under 1 000 km (620 mi) from Paris and driving the so-called Route du Soleil takes about 9 hours, depending on the traffic. There are several toll booths along the way.
Another option is to travel from Paris to French Riviera by train. High-speed train TGV service to several cities in the South of France, such as Marseille and Nice, takes no more than 6 hours. Second-class tickets start at around €135 and first class at around €190 per person.
How many days should you spend on the French Riviera?
We feel that 7 days is the absolute minimum. You could just as easily spend 10 or even 14 days on the French Riviera to see the sights at a more relaxed pace. Or why not venture beyond the French coast and add in a day or three in the Provence?
How expensive is the French Riviera?
Accommodation-wise, the French Riviera is synonymous with high-end luxury hotel suites and private pool villas that cost a pretty penny, especially in summer. But that's just one option. You'll find a variety of accommodation options to choose from in the bigger cities, Saint-Tropez and Monaco being the only exceptions. Just note that the accommodation offered in the smaller coastal towns may be somewhat limited.
When it comes to dining options, you'll find anything from pizzerias to fine-dining restaurants. So, the budget entirely depends on your preferences. And don't forget to stop by the provencal markets now and then. No better place to buy fruits and local specialties, such as fougasse and socca bread, for a cozy beach picnic or lunch on the go.
Put this French Riviera itinerary to the test
That concludes this 10-day French Riviera itinerary. It has all the ingredients you need for a memorable trip to the French Riviera. The only thing left to do is set a date and book your trip. All of our suggestions in this French Riviera road trip itinerary, from rental car booking platforms over hotels to restaurants, are hand-picked, and almost all of them are tried and tested by yours truly.
Now we'd love to hear your thoughts on this itinerary. Have you tried it or are you planning to? Any questions or suggestions? The comment box is all yours.