The list of things to do in Dubai with kids is pretty much endless. So much so, that narrowing down a family-friendly Dubai itinerary is no easy task. Some family-favorites are just too good to miss. Visiting one of the Dubai water parks is such a classic that never disappoints. With so many awesome water parks in Dubai, there's a variety of slides and attractions to choose from. From toddler to teen (and even the occasional adventurous adult), there's a something for everyone. And why not maximize your water fun by staying in a Dubai hotel that has its own water park? Your kids will have the time of their lives. So, are you ready to discover the top water parks in Dubai? Let's dive in!
…
Affiliate links are sprinkled throughout the site content. Clicking on such a hyperlink and booking on the accommodation platform it refers to, may result in a commission for CosmopoliClan at no additional cost to you. As Amazon Associates, we also earn from qualifying purchases. For more information, visit the Disclaimer page.
…
Overview of Dubai water parks
Aquaventure water park Dubai
Planning a day of splashing adventures? Then Aquaventure, one of the largest outdoor water parks in the world, is where to go. This awesome Dubai water park can be found right next to the iconic Atlantis The Palm. This impressive hotel, located at the tip of Palm Jumeirah, is a true Dubai landmark thanks to its majestic architecture. Guests of this hotel enjoy unlimited free access to Aquaventure, including the full day of check-in and the full day of check-out. And we really wish we had stayed there because you need 2 days in order to experience this vast Dubai water park to the fullest.
We strongly recommend booking your tickets beforehand. At the entrance, there are separate lines for ticket holders and non-ticket holders. At the counter, you can add a meal deal, a locker or towels to your ticket. You also get the opportunity to to upgrade your experience with Aquaxpress skip-the-line access or Aquarium admission.
"And at the end of the day, your feet should be dirty, your hair messy and your eyes sparkling." is of our all-time favorite family travel quotes. It also accurately described our day at Aquaventure.
The water park's sprawling grounds are clean, very well maintained and dotted with palm trees, fragrant plumeria trees and other tropical plants. It's also a very safe place, with an army of friendly lifeguards at every ride. Aquaventure Dubai encompasses no less than 22 hectares (54 acres) and is home to a series of signature rides.
Here's an overview of the most popular attractions and slides:
The River Rapids is a meandering 1.6 km rivers that you take in a tube along rapids, torrents ,water falls and wave surges. The whole tour takes about 45 minutes to complete but you can enter and exit at several pools, each with its own sundeck.
Trident's River is another river attraction that takes you through bubbles, currents and waterfalls. No tubes here but everyone is required to wear a life jacket.
Tower of Neptune: Say hi to the fish as you slide through the Shark Attack. Thrill-seekers can take a Leap of Faith on the nearly-vertical body slide that ends up taking them through a shark-filled lagoon.
Tower of Poseidon: Enjoy a moment of family-fun on the Zoomerango or the Aquaconda group rides or go head to head on the Slitherine dual slide.
Trident Tower: This is the latest addition to the Aquaventure water park in Dubai, housing an array of water slides that the whole family can enjoy such as the exhilarating Medusa's Lair and the awesome Hydra Racers. The Blackout is the newest nearly-vertical drop slide that guarantees a thrilling experience.
Splashers: Little ones will have a splashing time at the Splashers Lagoon, at Splashers Cover, the Splashers Mountain and Splashers Island thanks to a colorful collection of gentle slides, water sprays, swirls and huge tipping buckets.
Surf's Up Wave Rider: An awesome wave simulator that'll make you feel like you're surfing in Maui. Your friends can cheer you on from the terrace of the adjacent Wavehouse.
If you need a break from the action, then you'll find plenty of benches along the pathways and sun beds at some of the pools. There's also a gorgeous stretch of beach equipped with sun loungers and supervised by life guards. Just beware of the jellyfish, which may be present depending on the water conditions. It's a general nuisance on all beaches at The Palm.
Then there's the food. One of the things we don't like about water parks and theme parks in general is the lack of decent food. While we don't expect a gastronomic experience, we do like something more nutrient-rich than burgers, hotdogs and cotton candy. And we can assure you: Aquaventure delivers. You can find anything from mezze to curry and even authentic Dubai food items at the main restaurant areas Shark Bites and Barracudas. In addition, an assortment of popcorn, ice cream, smoothies, fresh pineapple and so is available in the smaller outlets and at the cheerful kiosks that dot the site.
The new Wavehouse, a gastropub overlooking the Surf's Up Wave Rider, is a great place to end the evening part. It's home to an arcade, a bowling and more.
If you came by taxi, like we did, then try to leave half an hour before closing time. It was super hectic when we exited the water park, the changing rooms were overcrowded and the taxi line looked like it would never end.
Aquaventure water park In a nutshell:
Perfect for: Families with kids of all ages as well as thrill-seekers.
Opening hours: Every day from 9:45 to 17:30.
Atlantis Aquaventure water park tickets:
Wild Wadi water park Dubai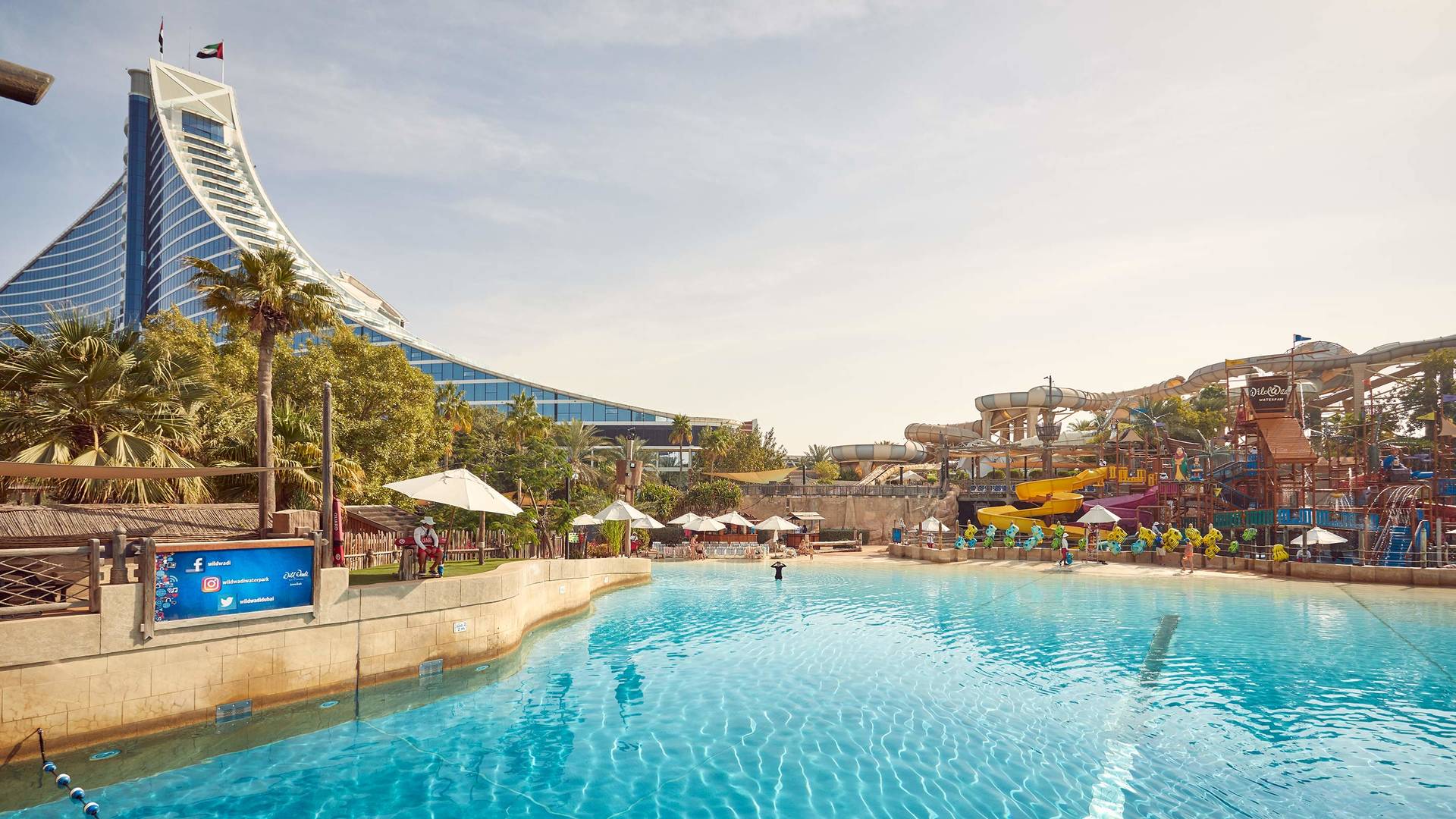 Despite the fact that this is the oldest water park in Dubai, it still manages to stay relevant. It's owned by Jumeirah, the same group that owns the iconic Burj Al Arab and Jumeirah Beach Hotel, in between which Wild Wadi is tucked away. This prime location results in a gorgeous setting, with the 7-star hotel Burj Al Arab in the backdrop. (Psst… Here's how to get inside Burj al Arab!)
Wild Wadi is designed to look like a desert oasis and is themed around the journey of Juha, a popular character in Arabian folklore. While there are some exhilarating attractions, this Dubai water park has always catered more to families than on thrill-seekers. Wild Wadi spreads out over 5 hectares (about 12 acres). Thanks to its compact size, this is the perfect park to explore in one day.
Here's an overview of the most popular attractions and slides:
Breaker's Bay is the largest wave pool in the Middle East producing waves of 1.5-m (5-ft) waves. Your little ones will love going with (or against) the movement of the waves.
Juha's Journey is the relaxing lazy river that meanders through the water park. Enjoy the gentle current on a single or double-seater tube. Those looking for a more exciting river will love the Action River with its river rapids and wave surges.
If there's one attraction that will charm daredevils, then its the Jumeirah Sceirah. This 32-m (105-ft) high tandem slide with near-vertical drop reaches speeds of up to 80 km (50 miles) per hour. More action can be found at the Wipeout and Riptide FlowRiders, perfect for aspiring surfers.
Active families will love the thrill of the Burj Surj and Tantrum Alley, two exciting family tube slides that end with a splash. Another family-favorite is the Master Blasters, an uphill aquatic rollercoaster with no less gravity-defying water jet slides.
Juha's Dhow & Lagoon is the perfect hang-out for little ones. The giant dumping bucket, water guns and racing slides will keep them entertained for hours.
The lunch offer in Wild Wadi consists of burgers, pizzas and hotdogs with popcorn and ice-cream for sweet-toothed guests. Healthier options such as salads, fruit bowls and smoothies are available at the kiosks.
Wild Wadi water park In a nutshell:
Perfect for: Families with kids, from toddlers to young teens.
Opening hours: Tuesday to Sunday from 10:00 to 18:00. Closed on Mondays.
Wild Wadi tickets:
Laguna water park Dubai
This La Mer water park brings together a collection of water attractions for all ages and preferences, divided by zones. This may be one of the smallest water parks of Dubai, it guarantees a fun half day out nevertheless.
One of the most eye-catching zones is the surf zone thanks to the WaveOZ 180 Flow Rider. This awesome wave experience allows both amateurs and pros to practice their surfing skills.
The slide zone is where thrill-seekers will get their kicks, from the Manta family raft ride to the Constrictor. Challenge your friend for a slide down the Mad Racer or prove your grit at the Freefall with its near-vertical drop.
If you need a break, then head to the Relax zone where you can take a dip in the infinity pool or just go with the flow on the lazy river.
Little ones have their own hangout at Laguna water park. The Splash Zone with its Aqua Play fortress with its gentle slides, soaker bucket and spray fountains is their splashing hub for the day.
Visitors to Laguna water park also have unlimited access to La Mer North beach.
Lunch or snacks are available at the main restaurant, the pool lounge, the oriental food kiosk as well as the ice cream kiosk.
We absolutely love the location of the Laguna water park at La Mer Beach, which is such a great place for families to hang out. As soon as you leave the park, you have dozens of restaurants to choose from as well as plenty of entertainment options to enjoy a casual night out.
Laguna water park In a nutshell:
Perfect for: Families with kids (from toddlers to young teens).
Opening hours: Tuesday to Sunday from 10:00 to 18:00. Closed on Mondays.
Laguna water park tickets:
Laguna ticket price: AED 195 at the ticket counter but much cheaper online. Infants under 2 years of age can enter for free.
Get your tickets on GetYourGuide – Get your tickets on Viator – Get your tickets on TripAdvisor
You can rent a private cabana (AED 995 which includes admission for up to 4 persons) which comes with sun loungers, towels, a fruit platter and one photo.
Add-ons at the ticket counter: Towel (AED 25), locker (AED 25, 35 or 45 depending on the size).
Jungle Bay water park Dubai
This rather new Dubai water park is located in between two popular luxury family resorts, Le Méridien Mina Seyahi Beach Resort & Water Park & The Westin Dubai Mina Seyahi Beach Resort & Marina, on the ground of the Mina Club. It's designed in an understated blue and white combination, evoking the sophisticated atmosphere of the Cyclades.
While hardcore thrill-seekers might be better off at one of the other Dubai water parks in this list, families will absolutely love Jungle Bay. Its compact size makes this the perfect place to spend a relaxing day with children.
Kids will love racing each other on the Whizzard slides, where they can spiral down alongside their friends or siblings. They can also go up the Lighthouse from where they can reach the Body Slides. These are wide enough for you to whizz down them or even take them on your lap.
Your little ones will have a great time at the Aquaplay and the Kids' slides with its gentle slopes. No height limits apply at these attractions. They offer just the right level of excitement for toddlers without the need to accompany them.
And if you feel like getting some action together, then head to the Family Waves pool.
Visitors are also invited to take a dip in one of the temperature controlled pools or to relax on a sun bed on the gorgeous of private beach.
From light bites, snacks to lunch, you'll find plenty of choice at the onsite restaurants and bars (including the ones on the premises of The Westin & Le Méridien). We love the healthy menu at Bounty Beets!
Jungle Bay water park In a nutshell:
Perfect for: Families with toddlers and kids up to the age of 10.
Opening hours: Every day from 9:00 to 17:00.
Jungle Bay tickets:
Legoland water park Dubai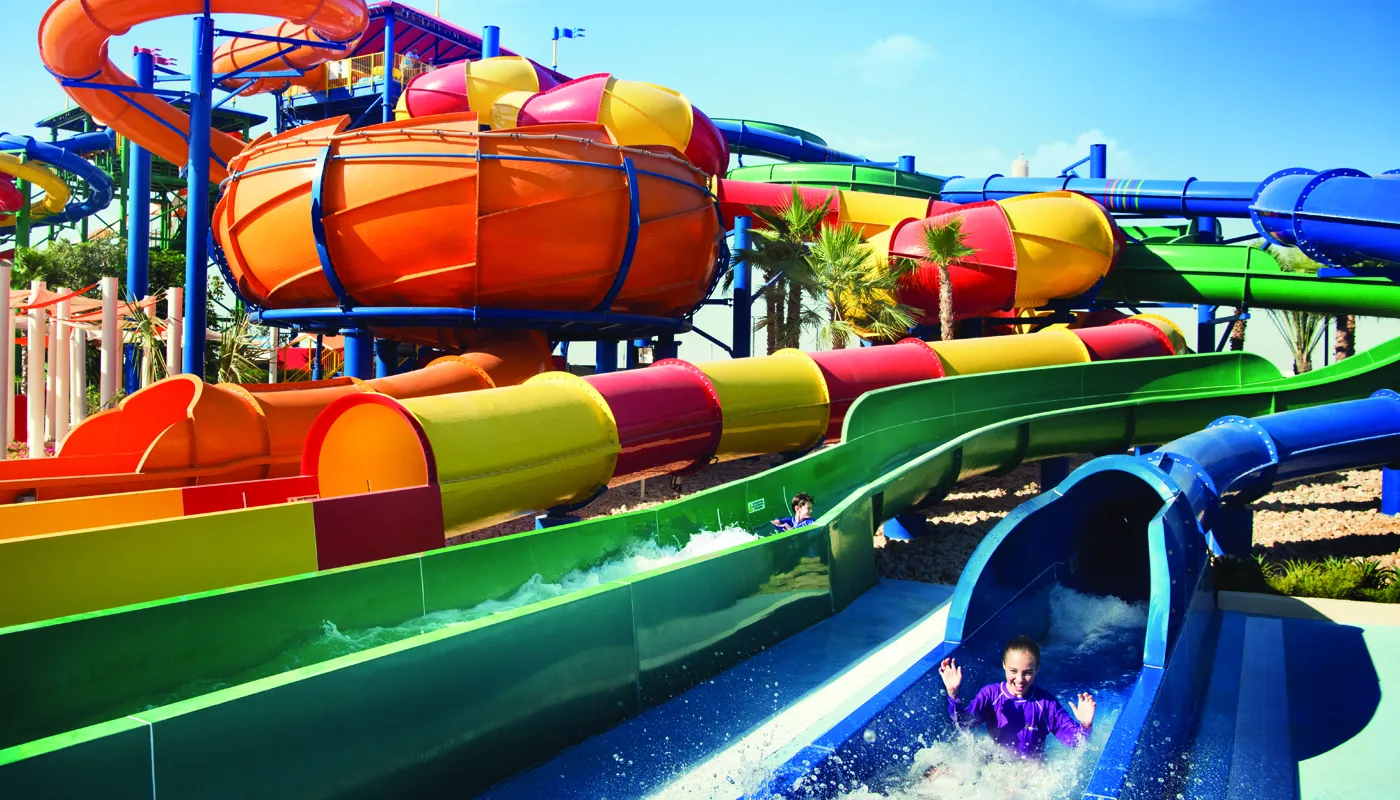 Last up in our list of water parks in Dubai is the colorful Legoland water park. It's located in Jebel Ali, which is a bit of a drive from Dubai's most popular hangouts. Then again, it's part of Dubai Parks and Resorts, which also houses Legoland Dubai, Riverland Dubai, Motiongate Dubai and Bollywood Parks Dubai. In addition to these amusement parks, there are some onsite hotels. So, you can easily make a weekend out of it.
Legoland water park is home to an array of slides such as the Tidal Tube, the Wave Rider and the Splash Out. Kids can race their friends on the body slides of the mat slides of the Twin Chasers and the Slide Racers. Or they can share a tube and slide down the Twist N Spin or the Splash N SwirL
The Legoland water park's signature attraction is Build-a-Raft river, where you can customize your raft with large soft lego bricks before conquering the lazy river.
Toddlers will love the Joker Soaker, an interactive water zone designed to get them soaked thanks to a collection of water sprinklers, tumbling buckets and water shooters. Then there's the Duplo Splash Safari, where they and their friends or siblings can slide down together into the wade pool that's dotted with life-sized Duplo characters.
After you've worked up an appetite, you can go for burgers, pizzas and salads at one of the onsite restaurants such as Waves Bistro or Bricks Bites.
Legoland Dubai water park In a nutshell:
Perfect for: Families with kids between the ages of 2 and 12.
Opening hours: Thursday to Tuesday from 10:00 to 17:00. Closed on Wednesdays.
Lagoland water park tickets:
Aqua Fun Dubai
A different kind of water park can be found right at the JBR shoreline. Instead of a collection of slides, loopings or wave pool, Aqua Fun Dubai boasts a gigantic inflatable water park. Run, slide and jump as you conquer the 110+ obstacles or challenge your friends during an obstacle run.
Sign up for a day of floating fun at the world's largest inflatable water park. Aqua Fun is located just off the coast and getting there requires a short swim. Life guards are present at the park at all times and life jackets are provided at the reception.
As you can imagine, tackling obstacles is way more intensive then sliding down a tube. Therefore, do try and avoid visiting this water park when the sun is at its brightest.
Showers and changing rooms are available at The Beach at JBR, where Aqua Fun is located, and possessions can be safely stored at the reception.
Aqua Fun Dubai water park In a nutshell:
Perfect for: Families with kids who are 110cm (3.6 ft) or taller
Opening hours: Every day from 9:00 to sunset.
Aqua Fun water park tickets:
Dubai hotels with an on-site waterpark for hotel guests
If your Dubai itinerary is packed as it is or if you don't want to pay premium prices to visit a water park with your liftte ones, then you could just as well stay at a child-friendly hotel or resort with private water park. And you'll find plenty of those in Dubai.
Here's an overview of some super family-friendly places to stay in Dubai that offer water play zones:
Tips for visiting Dubai water parks
What to pack for a day of water fun?
Most water parks in Dubai will not allow you to bring water or snacks. At Aquaventure, for example, bags are checked before entering the park. We would, however, recommend to bring your own towels and of course, lots of sunscreen. A waterproof cellphone pouch comes in super handy at any Dubai water park. We decided against pre-charging our wristband but fitted some bills in our waterproof pouch, which worked just as well.
Also, it might be a good idea to bring flipflops or watershoes. Depending on the temperatures, the floor can get pretty hot. Also, it might feel more pleasant to queue in the bigger parks, especially on the staircases in the towers where you wait to access the slides.
For more packing inspiration, have a look at out beach vacation packing list.
Are Dubai water parks open during Ramadan?
Yes, they are. Some parks may be closed on Friday but have a more extensive evening program on other days.
Is there a dress code?
Burkinis, bathing suits and bikinis are all acceptable, just make sure it's modest and elegant and in line with Dubai customs. A floss bikinis won't get you very far in a water park anyway. Men can wear boardshorts or speedos. Rash guards are recommended, especially for kids.
Just make sure to dress a bit more modestly in the Holy Month. You could do this by wearing a rash guard over your bikini or a bathing suit. Other than that, you'll be fine.
Water parks in other Emirates
Dubai may be home to some of the most popular water parks in the UAE but the other Emirates are catching up. Here's a quick overview of water parks outside Dubai:
Abu Dhabi
The luxurious Emirates Palace in Abu Dhabi has its own water park with its lazy river and an awesome slide island.
Discover Emirates Palace on Booking.com – Discover Emirates Palace on Expedia
Discover a splashing collection of slides and attractions and enjoy an action-packed day at Yas Waterworld Abu Dhabi. This amazing park is vast and includes attractions for all ages, from soft adventurers to daredevils.
Get your tickets on Viator – Get your tickets on TripAdvisor
Umm Al Quawain
The verdant setting of Dreamland Aqua Park sets it apart from other water parks in Dubai and beyond. It's home to a range of exciting slides and attractions, a Dead Sea that's perfect for floating, a giant jacuzzi as well as a generous pool bar. The perfect day trip for families with young kids.
Get your tickets on TripAdvisor
Sharjah
Pearls Kingdom Al Montazah Water Park is a true treasure island full of wonders. Your little princess or pirate will feel right at home in this enchanting water park complete with hidden treasures, pirate attractins and magic carpets. A wave pool and lazy river complete this family fun experience.
Get your tickets on Viator – Get your tickets on TripAdvisor
Al Ain
Near the Omani border in Al Ain, there's a water park like no other: Wadi Adventure is not your average water park. Forget about slides and rides, this park is all about real adventures. Go rafting, kayaking, surfing or wakeboarding with the imposing Jebel Hafit mountains in the backdrop. From amateur to professional water sports athlete, this is where you'll get your water kicks.
Get your tickets on TripAdvisor
Which water park in Dubai is your favorite?
That's it for our overview of Dubai water parks. Now, we can't wait to find out what's your favorite one? Have you been there before? If so, what's your experience? And if you're yet to visit one of the water parks in Dubai, then which one will you add to your itinerary? Let us know in the comments!