Are you planning to visit the Benagil Cave in Portugal? Then this is the guide you need to make it happen!
Algarve is packed with enchanting towns, gorgeous beaches, endless ocean views, exciting outdoor activities, and spectacular natural landmarks. The most impressive rock formations and sea caves of Algarve can be found along the stretch of coast between Lagos and Albufeira. Benagil Cave is the most famous of them all.
Visiting this beautiful grotto does require some effort. That's where this ultimate guide to the Benagil Cave comes in. It lays out everything you need to know to organize your visit.
Is Benagil Cave worth visiting? How do you get into Benagil Cave? What are the best Benagil Cave tours? When should you visit Benagil Cave for the best experience? Can you drive to Benagil cave?
These are just some of the questions that we'll answer in this article. We'll also zoom in on our own experience visiting the Benagil Cave and give you our best tips to make the most of your visit to one of the prettiest places in Algarve.
So, are you ready to discover the Benagil cave in Portugal? Then let's dive in!
…
Affiliate links are sprinkled throughout the site content. Clicking on such a hyperlink and booking on the accommodation platform it refers to, may result in a commission for CosmopoliClan at no additional cost to you. As Amazon Associates, we also earn from qualifying purchases. For more information, visit the Disclaimer page.
…
What is the Benagil cave in Portugal and why is it so famous?
The Benagil cave, also known as Algar de Benagil or the Benagil Cathedral, is the most popular grotto along the beautiful Algarve coastline in Portugal.
The reason why it's so well-liked is its particular rock formation which lets the light flood in through an opening in the ceiling called 'The Eye'. This natural skylight creates the most magical setting. To add to the intrigue, the unique Benagil cave is home to a gorgeous sandy beach. But there's a catch: not every visitor is allowed to access the Benagil cave.
Where is the Benagil cave in Portugal?
This unique cave is located in and named after the fishing village of Benagil which is located about halfway along the southern Portuguese coastline in the Algarve region. There are plenty of other sea caves and impressive rock formations along this stretch of Algarve coast.
We'll mention some of the most intriguing sea caves further down in this article and we'll add a map for better visualization.
The area is also home to some of the prettiest beaches in Portugal. No wonder it's one of the most popular places to stay in Algarve.
How to get to the Benagil cave in Portugal?
Driving in Portugal can prove to be a bit tricky now and then. The main road leading to Benagil beach (the main Benagil beach, that is, not the one inside the cave) is very steep, and parking is limited. Therefore, it's recommended to leave your car at the car park up on the golden cliffs of Benagil town.
From there, just follow the signs to The Eye. You can reach both Benagil beach or The Eye in just over 5 minutes.
The exact location of the Benagil cave is 37° 05' 12.4" N / 8° 25' 25.6" W.
Discover Cars is our go-to European car rental comparison site. The prices are highly competitive, the booking process is effortless and you can even select a pay later option that comes with free cancelation. Click here to get the best car rental deal to get to Benagil cave.
How to get into Benagil cave?
First things first: the Benagil sea cave can only be accessed from the water. That's why the vast majority of visitors opt for a Benagil cave tour.
From comfortable to adventurous, there are several types of Benagil sea cave tours to choose from. Some only allow visitors to simply pass through the cave. Other tours allow visitors to disembark and spend some time at the small beach inside the Benagil cave. And, as unfair as it may sound, it really comes down to your fitness level.
So, which Benagil boat tour is right for you? Find out in our in-depth guide comparison of Benagil cave tours where we highlight the pros and cons for each.
Benagil cave boat tour
By far the most popular way to visit is by taking a Benagil boat tour from one of the nearby coastal towns.
These are the most popular Benagil boat tours by departure point:
Boat trips to the Benagil cave are regulated during peak season and the boats are queueing up at the cave entrance.
Therefore, it's important to note that, when you choose to visit the Benagil grotto by boat, you'll only be allowed inside the cave for a few minutes and you're not allowed to disembark. But not to worry, because there are many more beautiful caves that you'll visit as part of your small boat tour.
Many boats in all shapes and sizes offer boat tours to the famous Benagil cave. But what's important to note is that they can't all enter the cave. So, make sure to pick out a boat that's small enough to enter the low cave entrance.
And when you choose a Benagil boat tour that enters the cave, then don't expect it to be a leisurely boat ride. It's quite intensive and, depending on the ocean conditions, it can get pretty bumpy. Small boats are made for speed, not comfort.
Most Benagil cave boat tours take anywhere between 1 to 3 hours, depending on the number of other Algarve caves you'll visit on that boat tour and where you'll be boarding. You can start your boat tour from various Algarve beaches and marinas such as Albufeira, Lagos, Portimão, Armação de Pêra, Carvoeiro, Vilamoura, and even Faro.
The cost of boat tours to the Benagil cave ranges anywhere from €20 to €40 per adult (there's often a discount for kids). Needless to say that the shortest boat rides start from nearby locations such as Carvoeiro and Armação de Pêra and these tend to be the cheapest. Do check the reviews before booking a boat tour.
Benagil cave kayak or SUP tour
When you're in good health and the sea conditions allow it, you could opt for a Benagil cave kayak or SUP tour instead of a boat tour. It's what we did.
The tour we took is no longer operational, but these are the ones we'd pick:
On a kayak or SUP tour, you'll be spending about 20 minutes inside the Benagil cave and you're allowed to access the beach.
In our opinion, this is by far the best way to experience the magic of Benagil cave to the fullest. You get to spend more time inside the Benagil grotto, admire its beauty from the secluded beach and take photos from every angle. It really allows you to enjoy the Benagil cave instead of just passing through.
An added benefit is that, for safety reasons, most of these tours leave early in the morning. As a result, you access the Benagil cave right before the boats are allowed in. That makes the experience even more spectacular.
A kayak or SUP tour typically lasts for 2 to 3 hours, again depending on where you're leaving from. To minimize the physical effort, most organized tours depart from one of the beautiful nearby beaches such as Benagil beach or Carvalho beach.
In most cases, a support boat accompanies the kayakers on most Benagil cave trips so that you'll only need to kayak one way and get towed on the way back.
You'll pay around €40 per person for a kayak tour and €50 per person for a SUP tour. There's usually a discount for children.
Of course, you could also rent kayaks or stand-up paddle boards and visit the Benagil cave individually. That way, you can get to Benagil cave at your own pace and stay inside the cave as long as you want. Just make sure to check the weather conditions before booking your Benagil cave kayak rental.
Many different tour companies offer guided kayaking tours to the sea caves. Here are some Benagil cave tour suggestions:
We tried a Benagil kayak tour with our 2 kids and loved every second. Continue reading to find out more about our family kayak adventure to the Benagil cave in Portugal.
Benagil boat and kayak tour combo
Why choose a boat or a kayak tour if you can have both? The most recent Benagil cave tours combine the best of both worlds.
These are the most popular Benagil combo tours:
Boat and kayak combo tours embark at the marina of Lagos or Albufeira. You'll be welcomed on a more comfortable boat and you'll enjoy a leisurely boat ride to Benagil. Not too far from the entrance to the cave, you'll be invited to transfer to a kayak or SUP so that you can paddle your way to the cave.
Once inside, you're allowed to stay inside Benagil cave for about 20 minutes and you're allowed to disembark onto the beach. When it's time to go, you can simply paddle back to your boat.
The only disadvantage is that you'll be on a bigger boat with more fellow passengers. The ride will be more comfortable but the kayaking part can get quite chaotic with such a big group to manage.
Can you swim to Benagil cave?
The Benagil cave is located just 200m from Benagil beach. So, technically, yes, you could swim there. Do note, however, that this option is only advised for strong swimmers who are well-informed on the local weather and the current and tidal conditions.
This is an individual visit and allows you to stay inside the cave as long as you want and access the beach inside the Benagil grotto.
Be cautious when entering and exiting the cave because the captains of the many Benagil tour boats might not notice you. Wearing a colorful swimming cap is advised.
Swimming to the Benagil cave is not recommended in peak season because the Benagil grotto entrance will be swamped with tour boats. Also, don't swim too close to the cliffs since crumbling or collapsing cliffs are a common risk on the Algarve coast.
Can you walk to Benagil cave?
If you just want to have a glance at the beautiful cave or see this natural wonder from a different perspective, you can do so from the top of the cliff. It's just a 5-minute walk from the Benagil beach (Praia de Benagil). Do note that the eye on top of the cliff is fenced for safety reasons.
This allows you to catch a glimpse inside the cave from behind the fence. It doesn't give you access to this Algarve cave beach.
Our experience: Benagil cave kayak tour with kids
No better time than a vacation to get out of that comfort zone. In the spirit of one of our all-time favorite family travel quotes "Actually, the best gift you could have given her was a lifetime of adventures", we were determined to kayak to Benagil cave with kids.
We booked our tickets for the Benagil sea cave the evening before (I wouldn't try that in peak summer, though). The tour would start at 9.30 AM and we were expected at Vale de Centeanes beach 20 minutes beforehand. The tour would last for 2 hours. Upon arrival, we met with our tour companions. Three couples would join us on this tour.
Some beach essentials to pack for this coastal adventure are swimwear, a rash guard, and a hat to prevent sunburn. No flip flops, so we could change our position more freely on the kayak. We each received a life vest, which came in both adult and kids' sizes. Seatback support for the kayak was available as well.
The tour company had these plastic jars with a screw top in which we could store the personal items and camera gear that we wanted to take with us on the tour. At our own risk, of course. Since we really wanted to take some pictures inside the Benagil cave, we decided to bring an iPhone. We were a bit hesitant but I have to admit that these jars did the trick and hardly budged on the kayak when we were out to sea.
Before taking place on the kayak, we received a short instruction on how to kayak and what to do in case of problems. A support boat with a certified lifeguard would tag along, which was very reassuring since we were there with our kids (9 and 7 years old). The lightest person had to take place in the front seat, the heavier one of the two in the back seat. Fatih and I each took one of the kids to sit in front of us. Children don't receive a paddle so it was up to us, parents, to keep moving.
The plan was to explore a few other sea caves along the route and end in the Benagil cave. We then would be spending 20 minutes inside the cave and, after kayaking our way out, the support boat would tow all kayaks back to Vale de Centeanes beach. But since the wind turned shortly after our departure and the sea conditions got rougher, the tour guides decided to change things up.
They attached all kayaks to the boat and towed us to the Benagil sea cave. The towing part was quite fun for us but not so much for the kids: Since they were in the front seat, they had to deal with a lot of sea spray. So, we were glad to finally arrive at Benagil cave. We kayaked our way in and were pulled onto the golden sand by the tour guide.
We had about 20 minutes to spend inside the Benagil cave, which turned out to be just as mesmerizing as we had expected. Plenty of boats came and went but only we, kayakers, and some SUPers were allowed to enjoy this magical place.
When it was time to get back into our kayaks, we paddled our way out one by one. From there, we explored several other sea caves along our route back to the Vale de Centeanes beach. We had the wind in our back, this time. There was another sea cave that we particularly loved, it was called Paradise cave. We loved the crystal clear waters and the very narrow sandy beach inside the cave. There was also a touch of light falling from the ceiling. What an amazing place!
After about 1h30 we got back to the beach. Overall, we had been out to sea for 3 hours instead of 2. It was a fun adventure yet pretty intensive for a first-time kayaker. The kids had fun on the way back when the wind was right where we needed it to be.
The cost for this Benagil kayak tour was €140 (€35 per person) of which we prepaid €40 at the time of booking. At the beach shack, we received a discount of €10 per child.
Travel tips for a Benagil kayak tour
Take the distance to the Benagil cave into account: Kayak tours leaving from Praia de Benagil are ideal in terms of distance. I personally couldn't have handled paddling much further than we have from Praia de Centeanes. So when choosing your tour provider, take into account that a Benagil kayaking tour from further beaches and towns will be more intensive.
Opt for the early morning tour to see the caves at their best, with the perfect incidence of light. Most tours will leave between 9h-9h30.
Check how much time you'll actually be spending inside the Benagil sea cave. Our tour included a 20-minute exploration which was plenty to enjoy the magical setting.
Think of your safety and comfort: Our kayak tour was accompanied by a support boat with a certified lifeguard. This was very reassuring, especially since we brought the kids. Plus, when the wind changes and/or the sea conditions become rougher, you have the option to get towed or to board the support boat.
Ask the staff to take some photos during your Benagil cave tour. You'll most probably have your hands full or will be hesitant to take out your camera. Some tour providers offer pictures or even a video as a standard service so that you don't need to bring your own equipment. Ours didn't and I really regret not having asked this as a favor from the staff on the support boat. Alternatively, bring your GoPro and a hands-free set to catch your adventure on camera yourself.
I highly recommend checking the type of insurance that the tour provider might include in the price or making sure you're covered by your own travel insurance.
Best time to visit Benagil cave in Portugal
Now that you know what to expect from your visit, it's time to have a look at when to plan it. Benagil cave tours are available year-round but the season, the time of day and the sea conditions will all impact your experience.
Best time of year
Shoulder season is perfect for visiting Benagil cave and its surroundings. The months of May, June, and September will allow you to discover the magnificent Benagil grotto without the crowds. Plus, it allows for more spontaneity when it comes to picking a date.
We took the kayak tour in the last week of May and booked the evening before, but you won't have that luxury in peak summer.
If you can, avoid the peak months of July and especially August: Boats will be queuing at the Benagil cave entrance and loaded to their full capacity. If you can't avoid high season, then make sure to book your Benagil cave tour well in advance.
Note that Benagil kayak, SUP, and some boat tours are only organized from April to the end of October.
Best time of day
Visiting Benagil cave on a morning tour is the best way to avoid crowds. During our visit, we arrived at the Benagil cave just before 11 AM. By the time we left the Benagil grotto, about 20 minutes later, it was noticeably busier already.
Make sure to inform about the tides when you book your Benagil boat tour to maximize the number of caves you can enter. After all, some sea caves cannot be visited at high tide on a Benagil boat tour because the boat can't pass through the arch.
So, the best time to visit Benagil cave on a boat ride is in the morning and during low tide.
Other Algarve sea caves you'll come across during a Benagil caves tour in Portugal
Visiting Benagil cave is the highlight of every tour since it's the main attraction in the area. Most tours will explore some other Algarve sea caves as well along this stretch of coast. Some of the most popular ones are the Silver Grotto (Gruta da Prata), the Alfanzina Lighthouse Grotto (Gruta do Farol de Alfanzina), the Paradise Grotto (Gruta do Paraíso), the Heart Grotto (Gruta do Coração) and the Thief's Stack (Leixão do Ladrão).
Depending on the Algarve sea cave tour of your choosing, you'll also pass along the Alfanzina Lighthouse, Carvalho beach, and Marinha beach.
We created this custom map of this beautiful coastline for you to get an idea of the many highlights that you'll come across on your way to the Benagil cave:
Where to stay in Benagil in Portugal?
Benagil is a wonderful place to stay, thanks to its location halfway along the Algarve coastline. Another option is to stay at Carvoeiro, which is an enchanting little Algarve town just a short drive (or an impressive coastal hike) away.
After several trips, we got to know the area pretty well.
Benagil hotels
These are some fabulous hotels on the southern coast near the Benagil cave:
Benagil vacation rentals
Here are some wonderful places to stay near the Benagil cave that caught our eye. We like VRBO (Vacation Rentals by Owner) to book our Algarve rentals but some of these gorgeous rental houses are available on Booking.com as well. Plus, two of them even come with a private swimming pool.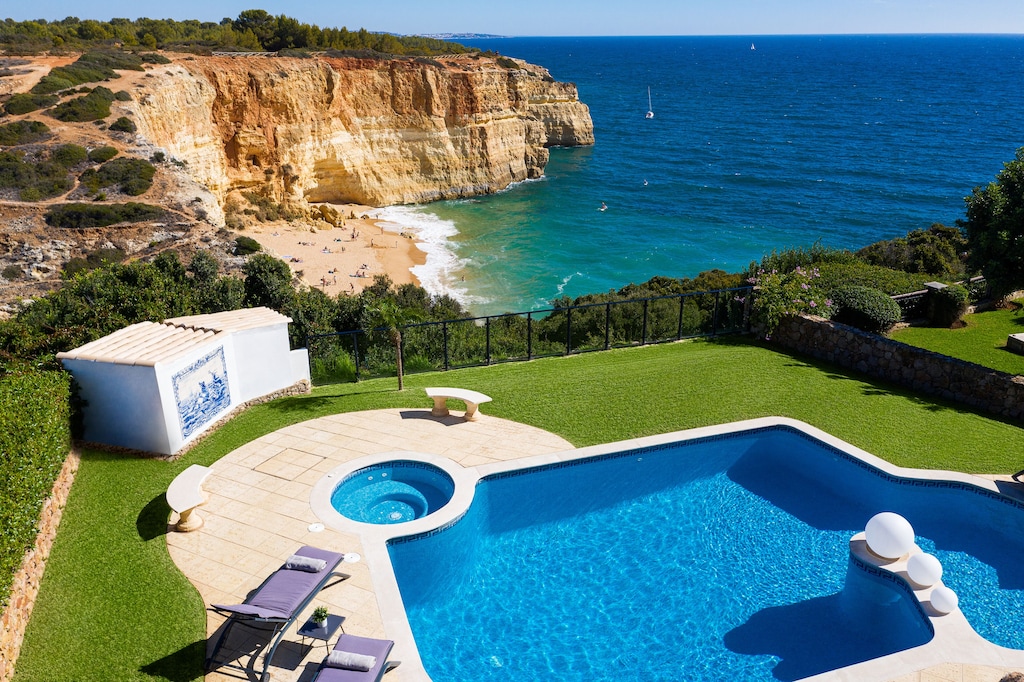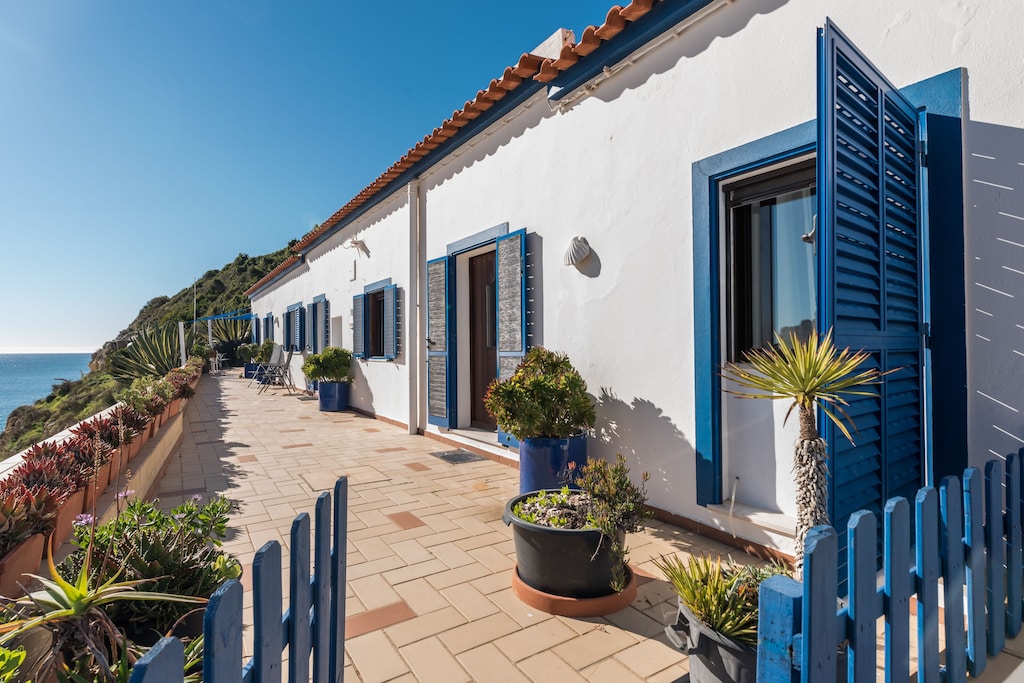 What to bring on a Portugal sea cave tour
Is a visit to the Benagil caves in Portugal on your bucket list yet? Tell us all about your travel plans in the comments.