During our most recent stay in the Algarve, which was part of a bigger Portugal road trip, we came across a small fishing village that was just picture-perfect. It's a town called Carvoeiro, hugged by the towering cliffs of the dramatic coastline between Lagos and Albufeira. The charming village is very compact, consisting of just a handful of streets, several alleys, a square, and a beach. But don't let its size fool you: Carvoeiro is surprisingly lively and close to some of the most scenic attractions in the Lagoa area.
Let us take you on a tour of the enchanting Carvoeiro, the Algarve's hidden gem, and show you why it's one of the most picturesque places to visit in Portugal. Plus, it's home to some of the most incredible rental houses in Portugal. Chances are that, by the time you finish reading this article, you'll be so charmed by Carvoeiro that you'll be whipping out your beach vacation packing list.
…
Affiliate links are sprinkled throughout the site content. Clicking on such a hyperlink and booking on the accommodation platform it refers to, may result in a commission for CosmopoliClan at no additional cost to you. As Amazon Associates, we also earn from qualifying purchases. For more information, visit the Disclaimer page.
…
Things to do in Carvoeiro Algarve
Discover the Carvoeiro beaches
You'll find some of the most beautiful beaches of Portugal near pretty Carvoeiro, all tucked away between the towering cliffs of the Algarve. The soft, golden sand and crystal-clear waters provide instant relaxation. Here are our favorite Carvoeiro beaches:
Carvoeiro beach
Praia do Carvoeiro is the focal point and the Algarve town was actually built around it. This rather small beach with soft, golden sand is cornered by two towering cliffs creating an intimate setting. In the back, Carvoeiro Beach is lined with traditional houses that add a splash of color to the scene. You can rent a beach chair or just enjoy the sand between your toes. Gentle waves make this a very family-friendly beach.
On the east side of Carvoeiro Beach, you can still see fishermen arrive in their traditional fishing boats bringing in the catch of the day. On that same side you'll also find a white, winding staircase leading to the most idyllic viewpoint over Praia do Carvoeiro.
Paraíso beach
Praia do Paraíso is a small beach, about 500 m (0.3 mi) west of Carvoeiro beach. Since you can't walk from one beach to the other along the ocean, you'll need to head into town to get around the cliff. It'll take you no more than a few minutes. Do note that this beach is really small and gets almost entirely covered at high tide. At low tide, it's the perfect snorkeling spot.
Vale de Covo beach
Praia do Vale de Covo is situated about 2 km (1.5 mi) east of Carvoeiro beach. Walking there would take you less than half an hour. This secluded beach's main feature is the giant arch that was carved out by the waves in the limestone cliffs. It gives access to a beautiful sea cave. Thanks to its crystal-clear waters, Vale de Covo beach is ideal for snorkeling.
Vale de Centeanes beach
Next up is Praia do Vale de Centeanes, a wider beach where you'll find a restaurant and a kayak club. It's from here that we started our kayaking tour to the Benagil cave. The waves are perfect for kids, not too gentle and not too rough. Pssst… when you head to the east side of the beach, there's a rocky passage that leads to a hidden section of Vale de Centeanes. It's the most gorgeous place. Just keep an eye on the waves to make sure you can return safely.
Carvalho beach
About 4 km (2.8 mi) east of Carvoeiro, you'll find the coolest beach in Portugal. Praia do Carvalho is named after a certain captain Carvalho who used to own the beach. The access is pretty unusual, to say the least. Descend the steep staircase from the parking lot and you'll arrive in the middle of nowhere. But upon closer examination, you'll see a small pathway on your left leading to a tunnel in the rocks. Be careful because the uneven steps are slippery. You'll be rewarded with golden sand, high cliffs, and turquoise waters. In the sandstone cliffs, next to the staircase, there's even a bar carved out by hand. It's no longer operational but serves as a cool hang-out.
Explore Carvoeiro town
The streets of Carvoeiro are lined with enchanting houses, some whitewashed, others pastel-tinted but all relatively small in size. Narrow alleys and staircases separate some of the house blocks. What was once a fishing village has become an increasingly popular Algarve holiday destination. During summer, tourists outnumber the locals. Souvenir shops, ice-cream salons, and cafes line the 3 main streets that meet at the Largo da Praia de Carvoeiro Square. Right behind it, you'll find Praia do Carvoeiro beach with its eye-catching restored fishing boat as a proud reminder of the town's heritage.
Follow the Carvoeiro boardwalk to Algar Seco
Remember the winding staircase next to Carvoeiro Beach? Well, it leads to a pathway that first circles around the Nossa Senhora da Encarnação and then transforms into a cliffside boardwalk leading to the dramatic Algar Seco rock formations. You'll reach those even before arriving at Vale de Covo beach. The wooden walkway offers the most scenic views over the Algarve coastline.
When you arrive at the end of the Carvoeiro Boardwalk, you'll need to descend a long staircase to arrive at the Algar Seco. You'll find some impressive cliff formations there, one of which is the popular sea cave called A Boneca. Boneca translates as doll, referring to the cave's 2 arches that resemble the eyes of a doll from the ocean side.
Take a boat trip to the Carvoeiro caves and Benagil cave
You can take a boat tour from every seaside town along the Algarve coastline but the stretch east and west of Carvoeiro is definitely the most interesting part. It's dotted with secluded beaches, sea caves, arches and hidden coves. To be able to access some of the caves, it's recommended to choose a smaller vessel for your boat tour. For the most intriguing excursion, make sure to pick a tour that goes up to the Ponta da Piedade rock formation near Lagos.
The Benagil cave, also known as Algar de Benagil or Benagil Cathedral, is the most popular of sea caves near Carvoeiro. Thanks to an opening in the ceiling called 'the eye', the sunlight floods in and casts a magical shine over the small beach. You can access it by boat but you're not allowed to hop off. The only option to feel the sand between your toes is to enter the cave by kayak, by SUP, or by swimming your way in. Check out our detailed post on the Benagil cave to learn more.
Browse the offer of top-rated boat tours to the Benagil cave.
Hike the Seven Hanging Valleys trail
One of the most fabulous Algarve hikes is the Seven Hanging Valleys trail or the Percurso dos Sete Vales Suspensos. It starts from Praia Vale de Centeanes and leads to Praia da Marinha, one of the most scenic beaches in Portugal.
The 5.7 km (3.5 mi) Seven Hanging Valleys trail is moderately difficult but the views are well worth the effort. Parking at Vale de Centeanes beach is rather limited, the parking lot at Marinha Beach offers more space so you could start there.
Visit the Alfanzina Lighthouse
The Farol de Alfanzina is Carvoeiro's iconic lighthouse, built on top of the towering cliffs in 2019 to help local fishermen and other seafarers navigate the Algarve coastline at night. Its bright-red tower can be spotted from afar, so chances are you'll come across it during your boat trip. The tower can be visited on Wednesday afternoons.
Places to visit near Carvoeiro
Carvoeiro to the Moorish Castle of Silves
The inland town of Silves, a 20-minute drive from Carvoeiro, is renowned for its impressive fortress. The Castle of Silves or Castelo de Silves is strategically located at the top of the city. The castle is a Moorish fortification with four towers and you can walk the entire lenght of the wall. The building's historic strategic importance is obvious when you see the panorama. The interior of the fortification has not been preserved. Instead, there's a beautiful garden in the courtyard with roses and fruit trees as well as an exhibition area and a cafe.
Browse the offer of top-rated excursions to Silves.
Carvoeiro to Ferragudo town
At the mouth of the Arade River, you'll find another picturesque fishing village. Ferragudo is located just a 15-minute drive from Carvoeiro and breathes a similar atmosphere, albeit a bit less touristic. Whitewashed fishermen's houses, charming Praça Rainha Dona Leonor Square, and the Sao Joao do Arade Fort are the town's main attractions. The nearby beaches offer beautiful views over the city of Portimao, located across the Arade.
Carvoeiro to Porches town
Quaint Porches is located inland and famous for its pottery and clay art. Along the road leading up to the town, you'll find already plenty of shops selling historical Porches Pottery. Cookware, flower pots, statues… You name it and you'll find it. Another well-known landmark in Proches, outside of the center, is the Capela de Nossa Senhora da Rocha which was built on a cliff.
Have fun in one of the waterparks
If you're visiting the Carvoeira area with kids, then might want to check out the waterparks near this fishing town:
Slide & Splash (10-minute drive): It's a park with a solid reputation that has invested quite a bit in updates and renovations these past few years. With names such as Big Slides Tower, Kamikaze, Disco River, and Corkscrew, you're guaranteed to have an epic adventure.
Aqualand (15-minute drive): Rainbow Park, Flying Carpets, Hydra, and Rapids are just some of the awesome attractions in this Carvoeiro waterpark. Your kids will love every minute … and so will you.
Browse the offer of other top-rated activities in Carvoeiro and its surroundings.
Where to stay in Carvoeiro
Carvoeiro hotels
In the heart of town, you'll only find house rentals. The hotel closest to the city center, enjoying a privileged location over Praia do Vale de Covo is the Tivoli Carvoeiro. Another gorgeous hotel within walking distance is the Monte Santo Resort, awarded the title of Europe's Most Romantic Resort in the 2019 World Travel Awards.
Close to Carvoeiro you'll find the family-friendly Caneiros Luxury House & Suites (in Ferragudo) and the posh Vila Vita Parc Resort & Spa (in Porches) with its Michelin-starred Ocean Restaurant.
Carvoeiro vacation rentals
Do you prefer the privacy of a home or apartment? Then you'll be pleased to learn that the wider Carvoeiro area is also home to some gorgeous Algarve rental houses and Airbnbs. We really like VRBO (Vacation Rentals by Owner) to book our rentals but some of these gorgeous houses are available on Booking.com as well: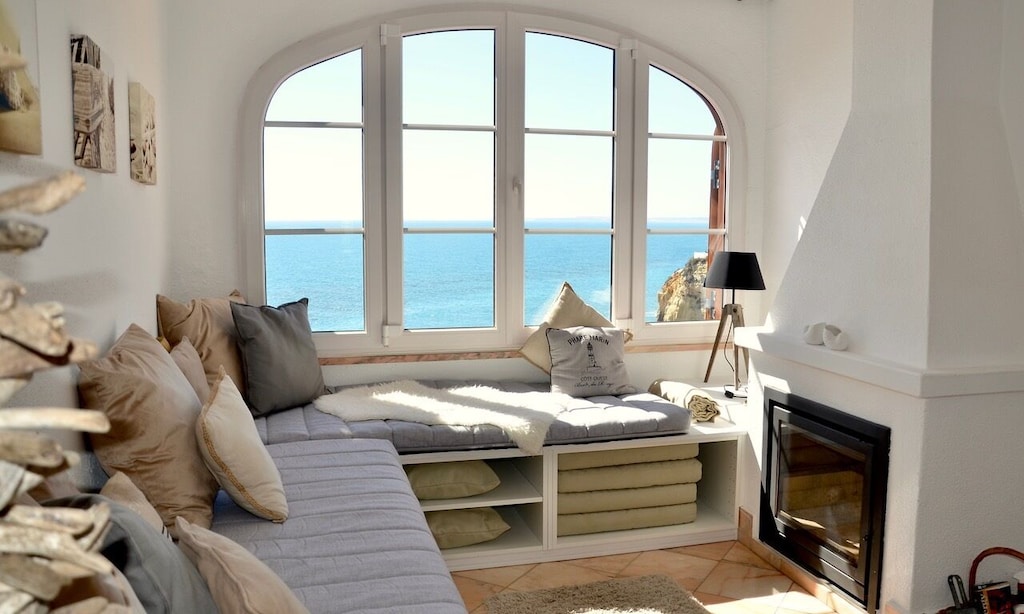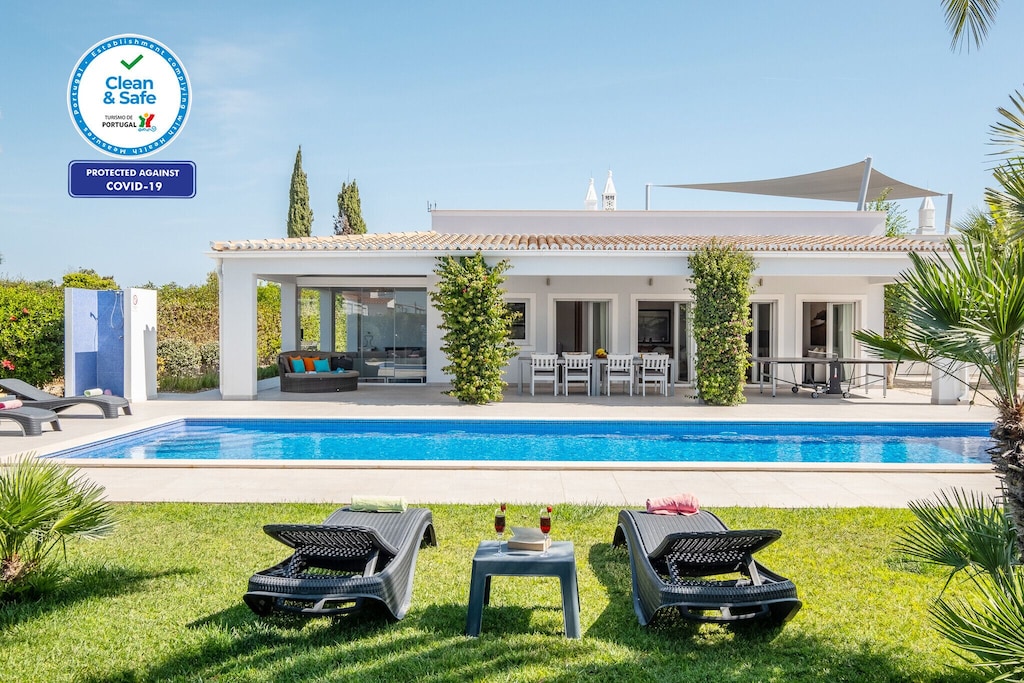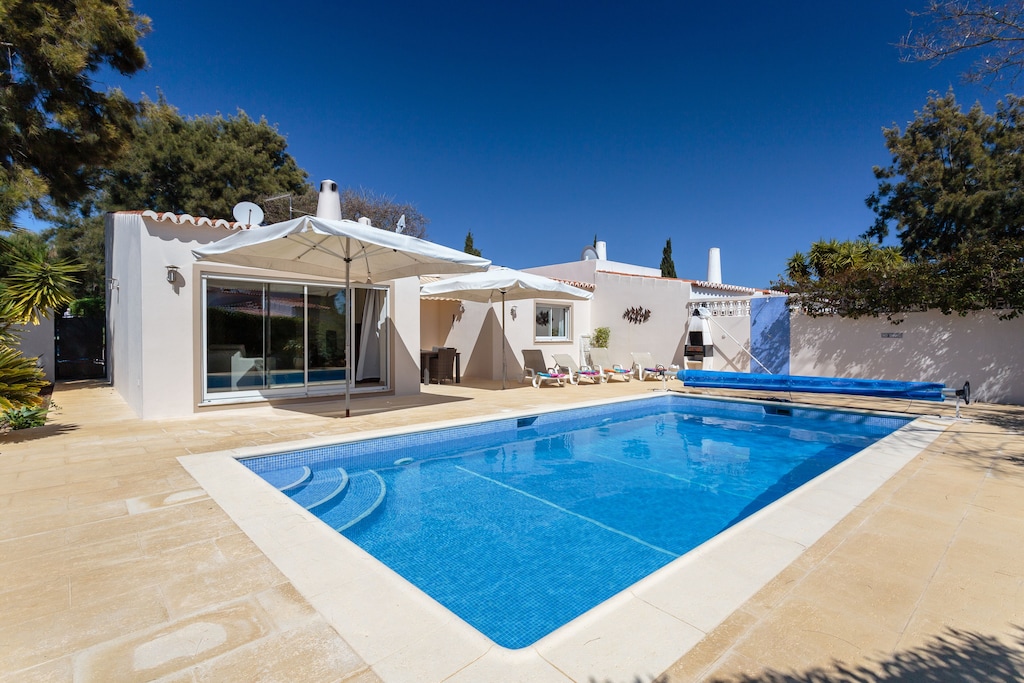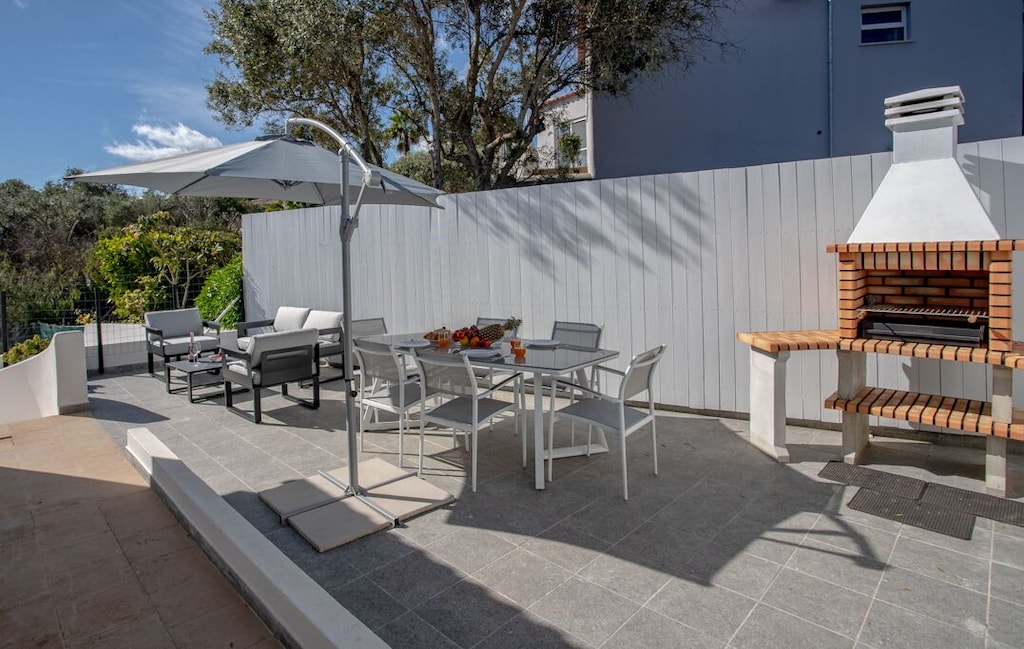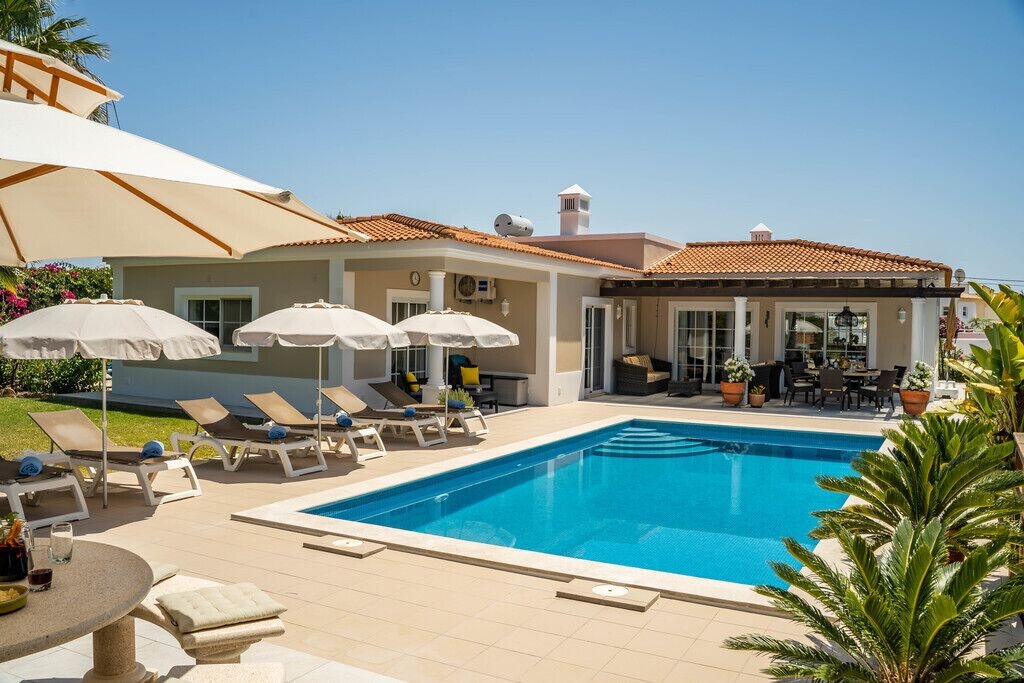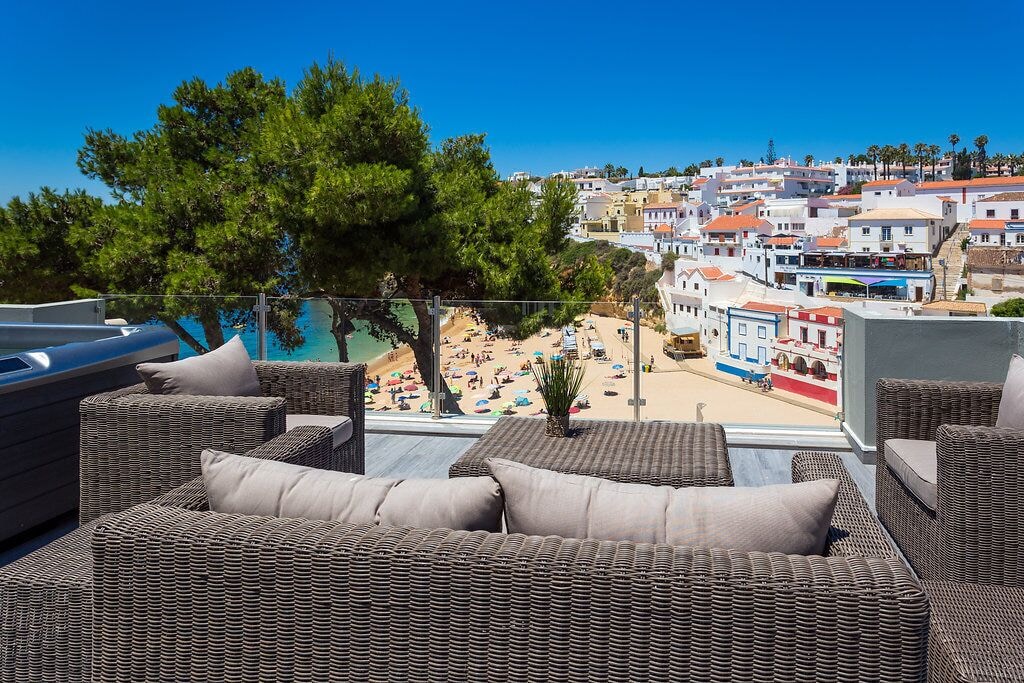 Getting to Carvoeiro and getting around
The nearest airport to Carvoeiro Portugal is Faro Airport, located about 1 hour of driving from Carvoeiro. You can rent a car at the airport.
Discover Cars is our go-to European car rental comparison site. The prices are highly competitive, the booking process is effortless and you can even select a pay later option that comes with free cancelation.
Alternatively, you could book this shuttle to your Carvoeiro rental.
Since Carvoeiro is so compact, it's pretty easy to navigate:
Should you visit Carvoeiro on a day trip, then it's recommended to park your car in the Estrada do Farol (the only main street that allows parking).
Even if you don't have a car during your time in Carvoeiro, you can easily get around thanks to the tourist train that drives around the center. On Tuesdays and Fridays, it even makes a tour to Ferragudo where it stops for 2 hours to allow you plenty of exploration time.
There's also a local Tuk Tuk service to make more trips in the area.
Well, that's it for our Carvoeiro guide. Have you been to the Algarve before and visited Carvoeiro? Did you like it every bit as much as we did? Or is there another cute little town in southern Portugal you can't wait to tell us about? The comment box is all yours!