The Big Island is the best island in Hawaii for families with a taste for adventure. It's home to many stunning natural features – the Kilauea volcano and the spectacular waterfalls near Hilo to name a few – and this unique beach is no exception. Papakōlea beach, the only green sand beach in Hawaii and one of four in the world, counts as one of the Big Island's most intriguing attractions. Its remote location certainly adds to its mystery and reaching it is not for the faint of heart. Here's all you ever wanted to know about the mesmerizing green sand beach of Hawaii island.
…
Affiliate links are sprinkled throughout the site content. Clicking on such a hyperlink and booking on the accommodation platform it refers to, may result in a commission for CosmopoliClan at no additional cost to you. As Amazon Associates, we also earn from qualifying purchases. For more information, visit the Disclaimer page.
…
Where the green beach sand comes from
Green sand Papakolea beach is located inside the remains of a volcanic crater of the Puu Mahana cinder cone, which formed over 49,000 years ago. The sand gets its color from the mineral olivine, that was formed when the volcano's lava solidified and the magma crystalized. The fragmented olivine crystals form this amazing green sand and create the most amazing of Big Island beaches.
It's not just the sand that's strikingly colorful: The aquamarine water in the bay is just as appealing and so is the unique crater rock formation which was shaped by eroding waves.
Getting to Papakolea beach
The Hawaii green sand beach is located in the Kau district at the southern tip of Big Island, about three miles east from the South Point or Ka Lae area. There are no tours up there so you need to drive to green sand beach Big Island. You can reach Papakolea beach by following Highway 11 of the Hawaii Belt Road and taking the exit in between mile markers 69 and 70.
From Hilo, you follow Highway 11 which changes names from Volcano Highway to Māmalahoa Highway right beyond the Hawaii Volcanoes National Park entrance. You'll reach South Point in 1h45 – 2h or more, depending on traffic.
From Kailua-Kona, you take the Queen Kaʻahumanu Highway a.k.a. Queen K Highway which changes names to Māmalahoa Highway beyond the Captain Cook monument. Depending on traffic, it'll take you approximately 1h30 – 2h to reach South Point from Kailua-Kona and about 2h30 from the Waikoloa Resorts.
Form the exit, take the meandering one-lane paved South Point Road passing the wind farms. Where it forks, turn left and drive up to the dirt parking area on your right hand side. Continuing is against all car rental contracts, this is as close as you can get to the green beach in Hawaii by car. This spectacular natural attraction is located 2.6 miles down the road and you have two options to reach it:
– Hiking your way to Papakolea green sand beach
Since the surrounding landscape is a fragile ecosystem that's dotted with ancient cultural sites, hiking is the only official way to reach Hawaii's green sand beach. Reaching this unique beach, nestled in Mahana Bay and therefore also known as Mahana beach, does require some effort. Although not very well marked, the coastal trail itself is pretty easy. What makes the green sand beach hike strenuous, are the harsh conditions: Zero shade, a sweeping wind and dusty, deep rutted jeep roads. Here are some tips to make your hike to this green sand beach manageable:
– Hitch a ride on the back of a local's off road truck
At the parking lot, you'll see plenty of locals ready to take you to the green sand beach, in the back of their 4WD truck. The going rate is $20 roundtrip. You should know that driving up to the beach is illegal, there's even a plan to ban these illegal shuttle services. The vehicles damage both the fragile ecosystem and several important cultural sites that are known as the South Point Complex, a National Historic Landmark.
Descending to the green sand beach of Hawaii
When you finally reach Mahana Bay, there's a steep descent to reach the gorgeous green beach. We recommend sturdy shoes from a trusted brand such as Merrell or Keen to climb your way down. Take your time to take in the beautiful scenery. The olivine crystals, aquamarine waters and eroded rock formation are magnificent. You can swim but do take into account that the surf is pretty strong and that there are no lifeguards around, so take caution. The conditions at green sand beach in Hawaii are extremely windy and the sand literally hits you in the face. Wear sunglasses to protect your eyes from the blasting olivine crystals.
The Hawaiian term Papakolea translates as plover flats, referring to the Pacific golden plovers that are sometimes spotted here during the winter months. So, why not bring your monoculars?
Staying near the green sand beach of Hawaii Island
We visited Papakolea beach when traversing from Hilo, where we spent several nights, to Kailua-Kona, where we stayed for the rest of our Big Island trip. This was perfectly doable and we got to visit both the black and green sand beaches.
If you want more time to spend around Ka Lae, you might consider staying in the wider area. Even though it's a rather remote part of the island, there's a true gem to be found: the Kalaekilohana Inn and Retreat. Just check out the glowing reviews.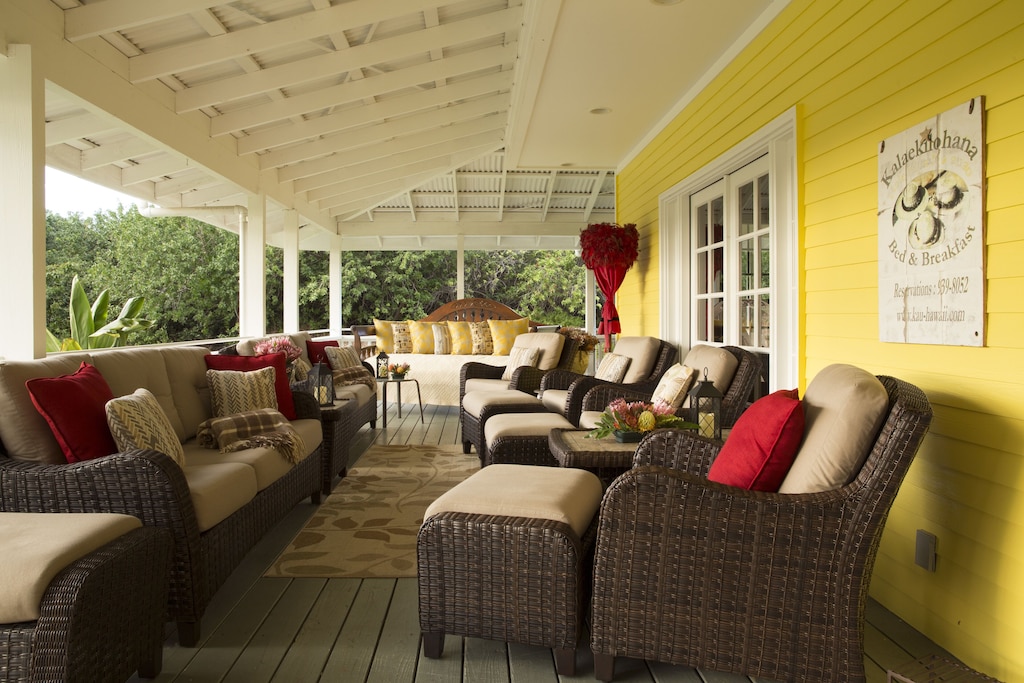 Looking for something truly special? Then you'll be happy to learn that you'll finds some of the dreamiest Hawaiian Airbnbs in the area. The most unique vacation rentals are located near Volcano which is about an hour from the green sand beach. Here are our favorites: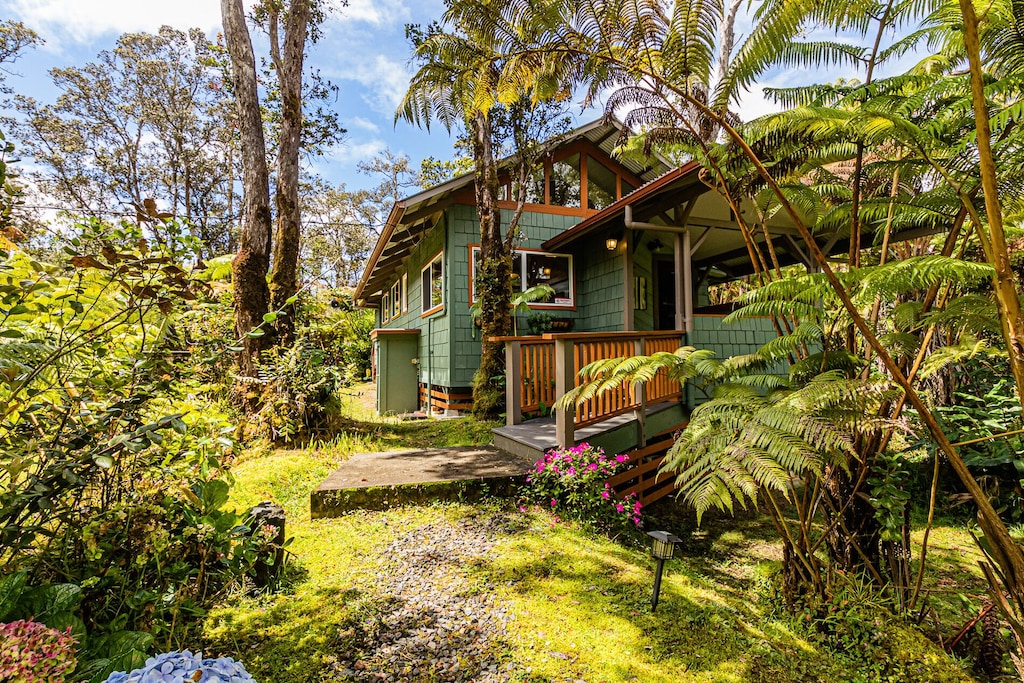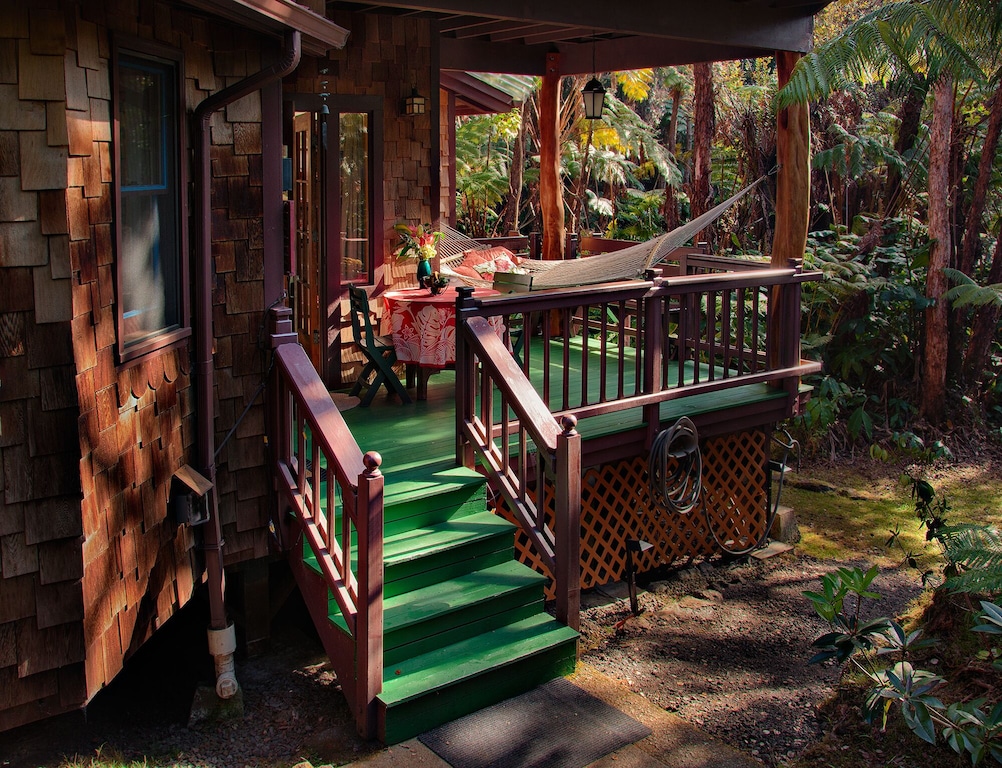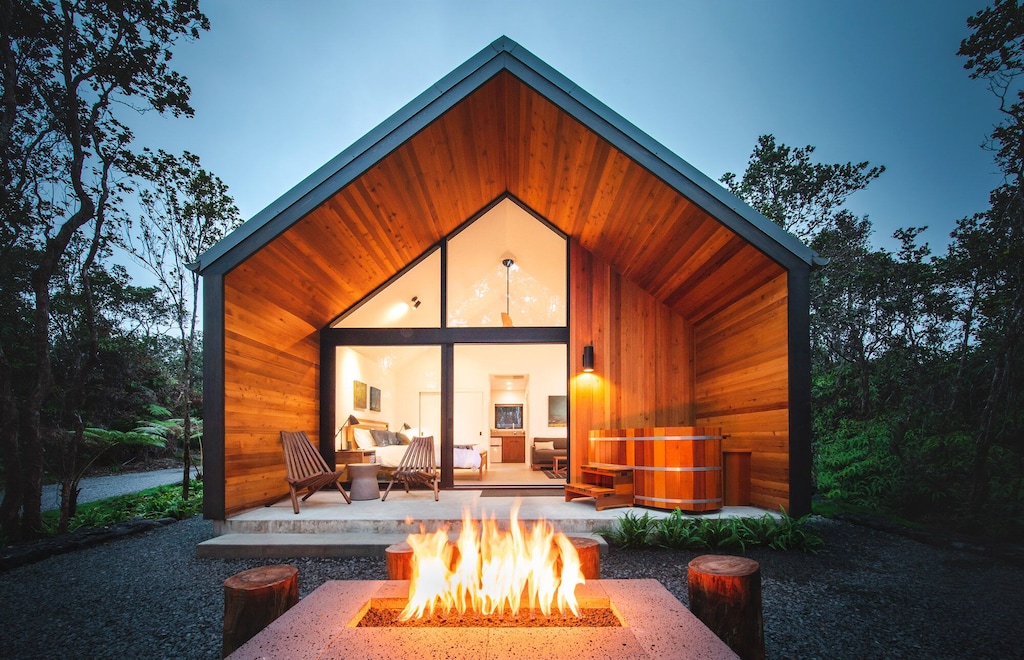 Our Papakolea beach adventure
In all honesty: We did take a green sand beach shuttle. First of all, we had no idea that it's illegal and why. Secondly, since this is not the kind of hike you take with kids, we didn't even consider hiking to the green sand beach. So, we paid the driver $40 and, together with several other tourists, headed to Papakolea. The ride lasted for 20 – 25 minutes and the girls, 8 and 6 years old at the time, hated every minute. But hey, there was no way back. Unfortunately, the challenging circumstances didn't allow me to take pictures. We were so happy to finally reach this amazing beach and enjoy a much-needed break. Too soon, after just 15 minutes or so, we had to board the truck to return to the parking lot.
Was Big Island green sand beach worth it? For me, it definitely was. But I wouldn't recommend taking young kids. Traveling as a family is a great opportunity to get out of that comfort zone but we took it too far on this occasion. But then again, it's good to test our limits from time to time.
Other things to do near Papakolea beach:
– Cliff jumping at South Point
Remember the fork in South Point Road where you turned left towards green sand beach? Well, the road to the right leads to Ka Lae or South Point, the southernmost point of the United States. It's a place that you won't find in the average Hawaii travel guide but well worth the small detour. This is said to be the place where the Polynesians first discovered the Hawaiian Islands from Tahiti.
South Point is a popular cliff jumping spot among locals and tourists alike. If you're a strong swimmer who can deal with currents, you can take your chance and jump off the 40 ft cliff from the wooden platform. You'll find ladders to help you get our of the water, although these are a bit shaky because of the strong wind. Never jump when the ocean is too rough. Otherwise, you might have just as much fun encouraging the jumpers.
– Punaluu black sand beach
There are more colored beaches than just green sand beach on Hawaii Big Island. Popular Punaluu black sand beach is just a short drive from South Point to the east (direction Hilo). It's a wide palm-fringed stretch of beautiful black sand where you'll often find green sea turtles basking in the sun. You'll find the road to Punaluu beach at mile marker 55. It comes with a dozen of parking spots and there's no hiking involved.
– Visit the Kula Kai Caverns
The Kula Kai Caverns are lava tubes through which the lava from the Mauna Loa volcano once flowed the ocean about 1000 years ago. Ancient Hawaiians used these corridors for water collection as well as shelter from the elements.
Do note that the tubes are located in a gated community so you'd need to join a tour to get access. And that might just be a good thing since Kula Kai is knows to be a maze and you could easily get lost exploring on your own. The exit for Kula Kai is at mile marker 78. From there, it's another 2 miles to reach the entrance gate.
– Hawaii Volcanoes National Park
Hawaii Volcanoes National Park, a World Heritage Site and International Biosphere Reserve, is the Big Island's main attraction. This impressive park is home to two active volcanoes: the Mauna Loa, the largest volcano in the world, and the Kilauea, the most active volcano in the world. The latter erupted in May 2018, just 2 – 3 weeks after we hiked the Kilauea Iki trail. This epic trail has been reopened and we highly recommend this spectacular hike.
Hawaii Volcanoes NP is always open, day and night and every day of the year. The main entrance is that to the Kilauea Visitor Center, located between mile markers 28 and 29 on Crater Rim Drive off of Highway 11.
– Punaluu Bake Shop and Visitor Center
The southernmost bakery in the USA can not be missed. You'll find the most delicious Hawaiian pastries – the malasadas are to die for – in the Punaluu Bake Shop, as well as a selection of souvenirs.
Other green sand beaches in the world
As mentioned in the introduction, green beaches are very rare. Apart from Papakolea green sands beach Hawaii you'll find similarly-hued beaches in three more locations around the world:
Talofofo Beach in Guam.
Punta Cormorant on the Galápagos Island of Floreana in Ecuador.
Hornindalsvatnet fjord lake in Norway.
Have you been to green sand beach Hawaii? Did you hike or hitch a ride? And was it just as windy when you were there? Or, are you planning on going to Big Island anytime soon and is this gorgeous green beach on your list? Let us know in the comments.