Planning a trip to the Hawaiian islands? Whether you choose to stay on one island or go for a Hawaiian island hopping adventure, you'll be spoiled with breathtaking scenery and gorgeous places to stay, such as exquisite tropical resorts and dreamy Hawaiian Airbnbs. One of the unique natural wonders are the beaches. Apart from the classic golden beaches, the tropical white sand beaches, the spectacular green sand beach and the intriguing red sand beach, you'll find various black sand beaches on Hawaii.
Visiting such a rare find is a must when you're in Hawaii. And when you plan on visiting the family-friendly Hawaiian islands of Maui and/or Big Island, then you're in luck. Are you ready to discover the mesmerizing black sand beaches of Hawaii?
…
Affiliate links are sprinkled throughout the site content. Clicking on such a hyperlink and booking on the accommodation platform it refers to, may result in a commission for CosmopoliClan at no additional cost to you. As Amazon Associates, we also earn from qualifying purchases. For more information, visit the Disclaimer page.
…
How are black sand beaches formed in Hawaii?
As you know, the Hawaiian archipelago is a collection of volcanic islands. Oceanic lava, as produced by the Hawaiian volcanoes, is rich in dark minerals such as iron. When the hot lava clashes with ocean water, it forms basalt, which fragments into smaller cinders. As the waves keep grinding those fragments, they turn into sand. So basically, the black sand beaches in Hawaii consist of crushed volcanic debris.
Since it takes quite some power to crush the volcanic rocks, the black sand shores are known for their strong currents, rocky ocean floors and hazardous surf. That's why the Hawaii black sand beaches don't offer the best swimming conditions.
Which islands in Hawaii have black sand beaches?
Black sand beaches on Hawaiian islands are the result of volcanic activity. This means that new ones can only be created on islands that have active volcanoes. At this moment in time, the only active volcanoes in Hawaii are found on the Big Island, Hawaii's youngest island. That's where you'll find the most glassy volcanic sand that results in intense black sand.
Also Maui, the second youngest island, still has some black sand beaches but the color lost some of its intensity.
You'll also find other islands with blackish sand beaches, such as Molokai and Kauai. Those black sand beaches have been around for a couple of hundreds of years. Over time, the black sand fades in the sun, gets washed away by the ocean and mixed with crushed sea shells. What was once an intense-black sand beach, turns into a salt-and-pepper beach.
There are no black sand beaches on Oahu.
Black sand beaches on Maui
Planning a vacation on this amazing island? Then check our article on the best places to stay on Maui in which we compare West Maui (Lahaina, Kaanapali and Kapalua) to South Maui (Wailea and Kihei) and give an overview of the most recommended Maui hotels and vacation rentals. Traveling to the island as a family? Then check out some of the best Maui activities with kids. Or up for a challenge? Then these Maui hikes will take your breath away.
For now, let's have a look at the black sand beaches in Maui.
Honokalani beach (Waianapanapa black sand beach)
A scenic road trip on the Hana highway is the one must-do that you'll find mentioned in every Maui travel guide. Waianapanapa State Park counts as one of the most popular Road to Hana stops. Its main attraction is the stunning cove with the only black sand beach on Maui.
The blue ocean, green coconut palms and black sands of this Maui beach create a picture-perfect scene. The landscape of Waianapanapa State Park is dotted with other interesting features such as sea arches, blowholes and sea caves. These caves are home to anchialine pools in which fresh water floats above the denser, salty ocean water that flows in via an underground tunnel.
You'll find this black sand beach at mile marker 32 of the Hana Highway. Note that you need to reserve your entry to Waianapanapa State Park in advance.
Oneuli beach
Another Maui black sand beach is Oneuli beach. This beach has lost some of its intense black and now consists of a mix of white and black sand. One'uli is the Hawaiian word for dark sands. The south side of the beach features a small cinder cone.
Oneuli black sand beach is located next to popular Makena beach in the Wailea area, a gorgeous white sand beach. Getting there involves a small stretch of dirt road.
Spending the night near one of the Hawaiian black sand beaches of Maui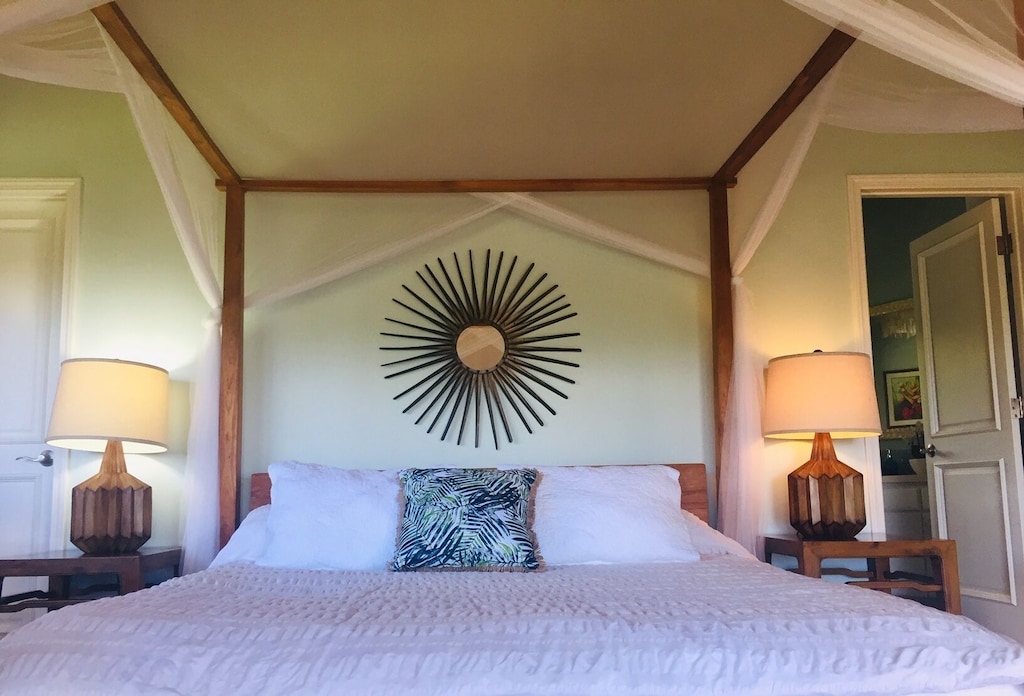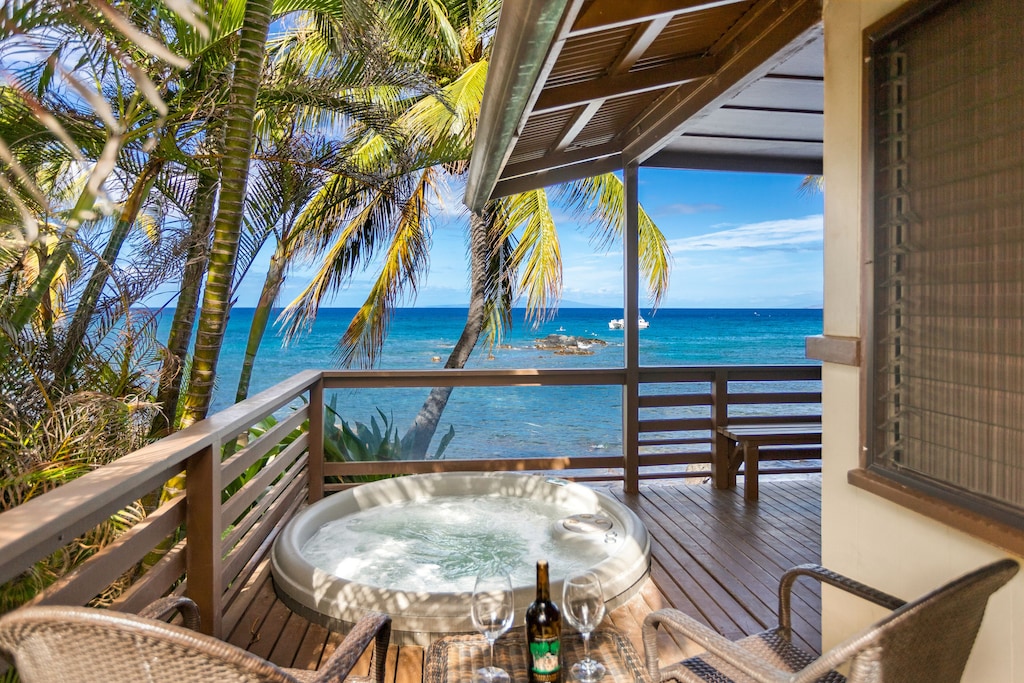 Black sand beaches on Big Island Hawaii
The Hawaiian island that charmed us more than any other, is the Big Island of Hawaii. There's such a variety of things to do on Big Island that every day is an adventure. This wild beauty brought out the adventurer in us. Spectacular waterfalls, challenging hikes, the most stunning beaches and the unique Hawaii Volcanoes National Park with its occasional volcanic activity. Planning a vacation on this amazing island? Then check our article on the best places to stay on Big Island. (You can also find our absolute favorite Big Island accommodations in this web story).
The Big Island of Hawaii is the youngest of Hawaiian islands and therefore home to the highest number of black sand beaches in Hawaii. Do note that sandy beaches are a rarity on the windward side of the Big Island. As such, most of the black sand beaches in the Hilo area consist of lava rocks.
Punalu'u beach
Punalu'u beach park is located on the Big Island's south coast. It's one of the most famous black sand beaches on the Big Island and attracts many tourists so expect at least some crowds. The beach is easily accessible and equipped with picnic tables and restrooms. The sand at Punalu'u black sand beach can get pretty hot yet taking a dip into the ocean is not a safe option since the strong currents make it unsuited for swimming and snorkeling.
Hawaiian green sea turtles or honu love chilling on the warm black sand of Punalu'u beach park as much as we did. You have a pretty good chance of spotting these protected creatures at Punalu'u beach (as well as on other black sand beaches on the Big Island). Hawaiian green sea turtles are a protected species, so remember to keep your distance.
Exit Hwy 11 towards between mile markers 56 and 57 to Punalu'u Road and you'll reach this famous black sand beach. At the end of this paved street, you'll find a small parking lot, under the palm trees.
Punalu'u black sand beach is located just half an hour from the entrance to Volcanoes National Park.
Pohoiki black sand beach
Next in our list of black sand beaches on Big Island is a recently formed beach. We were in Hawaii just two weeks before the 2018 eruption of the Kilauea in Hawaii Volcanoes National Park. In some areas, the landscape changed dramatically as a result of this major event. The lava flow has brought destruction but also brought new life to existing attractions such as Pohoiki, the brand new black sand beach on Big Island. It's located in the Isaac Hale Beach Park in the Puna district and easily accessible.
Before the lava event, Pohoiki was all rock and had no sand. Now it's a soft black sand beach, fringed with waving palm trees. The sand still consists of different textures, from fine grains to small rocks, which will be ground to even finer sand over time. Its black color is still very intense since the sun hasn't had the chance to fade it yet.
Getting to this black sand beach is easy: Just follow Hwy 130 to the end of the road before turning left onto Hwy 137.
Kiholo Bay
This magnificent bay, part of the Kiholo State Park Reserve, counts as one of the most picturesque black beaches of the Big Island. Dark lava rocks topped with palms fringe an azure lagoon consisting of a mix of salt and fresh water. The black beach of Kiholo is not a sandy beach but a true rocky stunner. A small lava island can be found in the heart of the lagoon. Bordered by Wainanali'i Pond in the north and Luahinewai Pond in the south – both located on private lands – Kiholo Bay was once a royal site. It's now a safe haven for Hawaiian green sea turtles and other fascinating wildlife.
Remember that sunscreen for Hawaii needs to be reef-safe. Raw Elements, Thinksport SPF 50+ Mineral Sunscreen and Kokua Sun Care are all excellent reef-safe choices.
Kiholo Bay is accessible from Highway 19, by taking the exit after mile marker 83, right before mile marker 82. It's not well indicated but rather a small lantern pole at the corner of a small road. The southern tip of the bay is located about 1 mile (1.6 km) down the road. From there, you'll need to walk for another good mile to reach the lagoon. There's also a lookout point at Highway 19, right behind mile marker 82, driving towards marker 81.
Keawaiki Bay beach
Just north of Kiholo Bay you'll find Keawaiki Bay, home to another gorgeous black sand beach on Big Island. Its most remarkable feature is a lone palm tree near the waterline. Since not many people know about this rather remote beach, chances are that you'll have this beautiful stretch of soft black sand all to yourself. This Hawaiian black beach is part of a sacred site around the Golden Pools of Keawaiki, a series of anchialine pools containing a golden algae. You can also find some temple ruins in this area.
Exit Highway 19 between mile markers 78 and 79 (there's no sign). The road towards the beach is private, so you'll need to park near the trailhead and hike along the four-wheel drive road. After about half a mile, take the smaller public acces trail and you'll reach this gorgeous Hawaiian black sand beach.
Experienced hikers might take on the 8-mile long hike between Kiholo and Keawaiki bay.
Makolea beach (Kekaha Kai State Park)
Next in our list of black sand beaches on the Big Island is the picture-perfect but rather secluded Kekaha Kai State Park. Black lava fields give way to these beautiful sand beaches, creating a beautiful contrast with the azure ocean. All Kekaha Kai beaches are white except for one: Makolea beach. This is the closest black sand beach to Kailua-Kona and located near the airport. You won't find any palm trees here but the many Hawaiian turtles largely make up for that. This is also one of the best places on the Big Island to enjoy the sunset.
Take the Highway 19 exit in between mile markers 88 and 89 and then drive down the dirt road exit before you reach the West Hawaii Veterans Cemetery (coming from Kailua-Kona). You'll see the entrance sign for Kekaha Kai State Park after less than half a mile. Note that reaching the beach from the parking lot requires a rather intensive hike.
Pololu Valley Beach
On the windward side or east side of the northern Hamakua Coast, in the Kohala mountains, you'll find seven verdant valleys. Pololū Valley is the northernmost one. Pololū is Hawaiian for long spear and refers to the centuries of erosion that carved out the valley. It's a mesmerizing place where tome stands still and nature has free play.
You can catch a glimpse of the beauty that awaits from the Pololū Valley Lookout before starting your descent to the valley floor along a very steep and rocky trail. The valley views are breathtaking and it's easy to see why Pololū Valley hike counts as one of the most rewarding short hikes in Hawaii. Depending on the amount of rainfall before your visit, the path can be slippery and muddy. After good half an hour, you'll reach a long stretch of black sand towered by rugged sea cliffs.
Follow Highway 270, which ends at the Pololu Valley beach overlook.
New Kaimū beach
Last but not least in our list of black sand beaches on the Big Island is New Kaimū. It used to be the location for a scenic black sandy beach, fringed with palm trees, and a small town. In 1990, it got covered by lava flowing from the Kilauea. The fine black sand got hidden under a thick layer of lava rocks. Locals planted new coconut palms in order to restore the beach. It's a special kind of place, showing the force of nature and how it gives and takes. Don't expect a wide sandy beach, though. New Kaimū black sand beach is more about the experience than about sunbathing.
Drive down Hwy 130 through Pāhoa in the Puna district, past the Kalapana lava viewing area before taking a right at the Hwy. 137 intersection. Continue to the parking lot near the Kalapana Village Café and follow the eco-path trail to New Kaimū black sand beach. You'll reach it in under 10 minutes.
Kehena beach
If you want to get that tan anyway, then nearby clothing-optional Kehena beach might be what you're looking for. Nudists aren't the only creatures that flock to this beach. As is the case for nearly all black sand beaches on Hawaii, Hawaiian green sea turtles are regular visitors of Kehena beach too.
But it doesn't end there, because when the ocean is calm enough, then you might spot schools of spinner dolphins playing in the surf near Kehena beach. As a result, this long and narrow black sand beach is nicknamed Dolphin Beach. It was formed in 1955 after a volcano eruption which lead to lava flowing into the ocean.
Kehena Beach is located on Highway 137 in the Puna district.
Waipi'o beach (CLOSED)
Waipio Valley Road has been closed to the public due to a high risk of rockfalls and landslides. Only Waipio Valley residents and farmers are still allowed to access the valley. At this time, the only way for visitors to get a glimpse of the valley is from the lookout. Hiking down is strictly forbidden and therefore this black sand beach can no longer be reached.
Waipi'o Valley is the southernmost of the Hamakua coast's seven valleys, also known as the Valley of the Kings. Its significant cultural and spiritual importance to Hawaiians is due to the fact that it was once the home of King Kamehameha I, the first monarch of the Hawaiian islands. Waipi'o translates as curved water in the Hawaiian language. The Waipi'o stream winds through the valley before it enters the ocean at the black sand beach.
To reach the Waipi'o Valley floor, you need to hike your way down from the Waipi'o Valley Lookout, along the very steep but paved Waipi'o Valley Road, for about 1 mile. When you turn right at the fork after the first part of the Waipi'o Valley trail and continue down the muddy path, you'll reach the black sand beach. If it has been raining a lot before your visit, you could spot the Kaluahine Falls behind the boulders on the east side of Waipi'o Valley beach. Find more detailed information in our Big Island hikes article.
Spending the night near one of the Hawaiian black sand beaches of Big Island Hawaii
Why settle for a day trip to a black sand beach if you could spend the night there? We've selected some amazing vacation rentals that are located right near some of the most impressive lava landscapes and black sand beaches in Hawaii Big Island: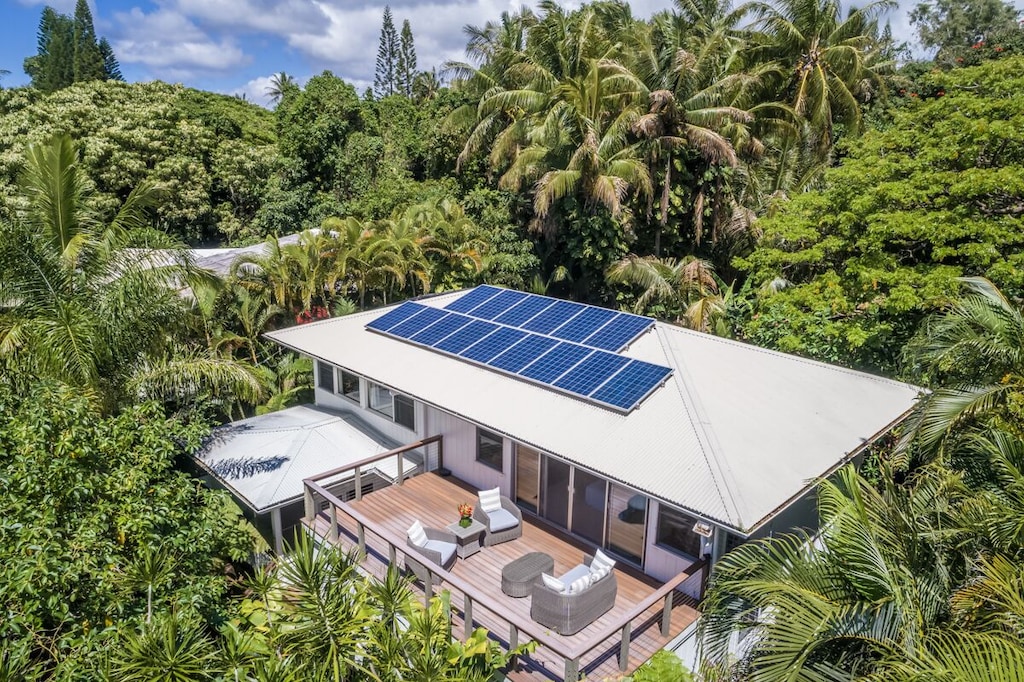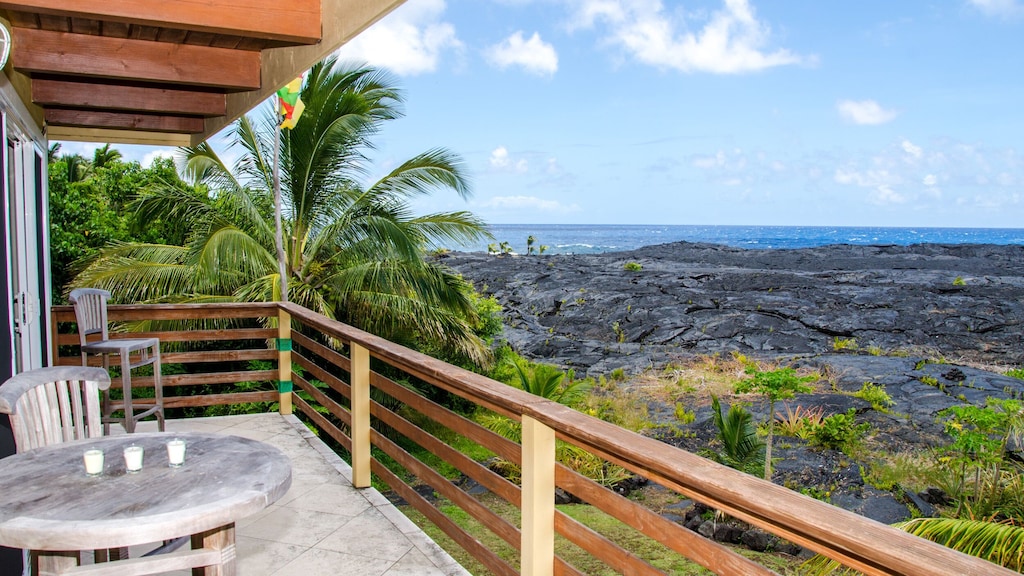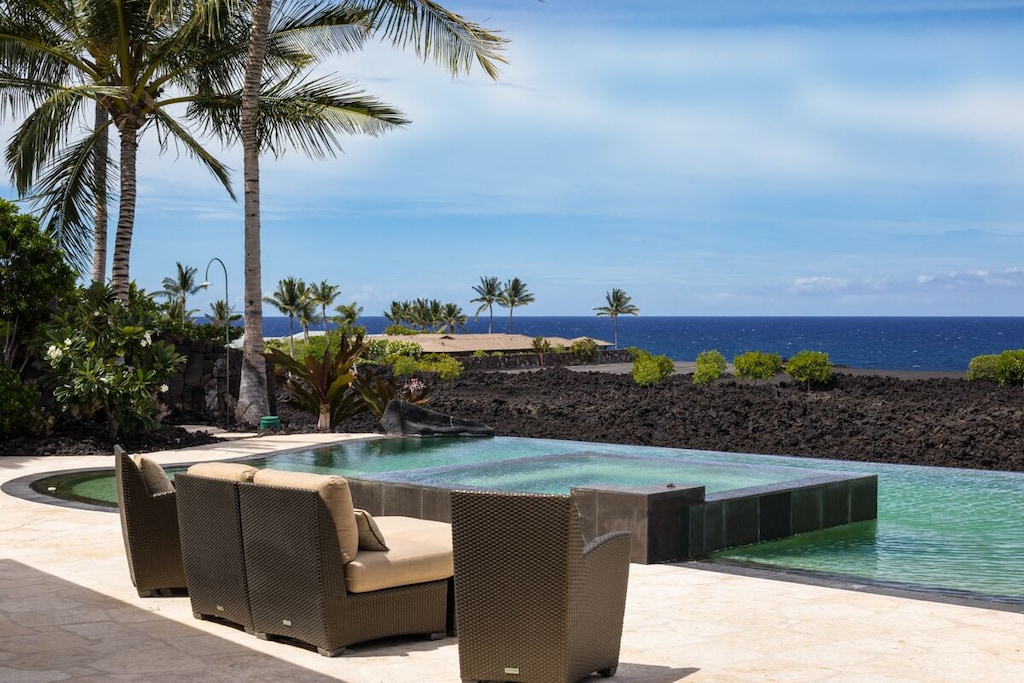 …
Psst…
Looking for even more amazing vacation rentals on the Big Island?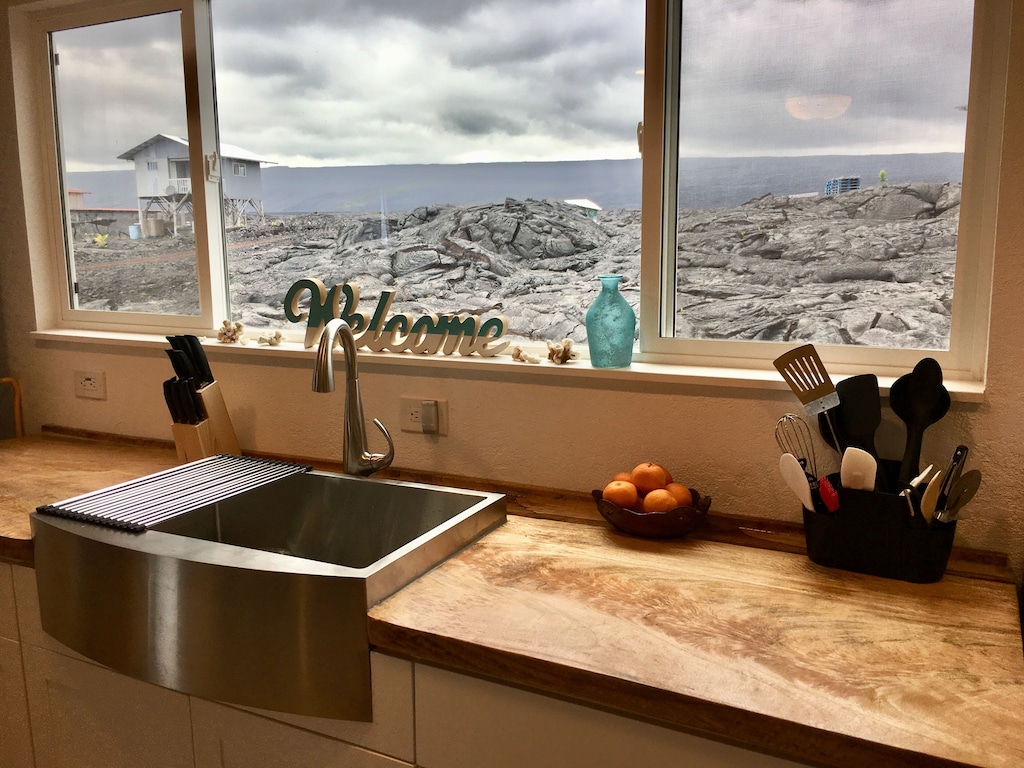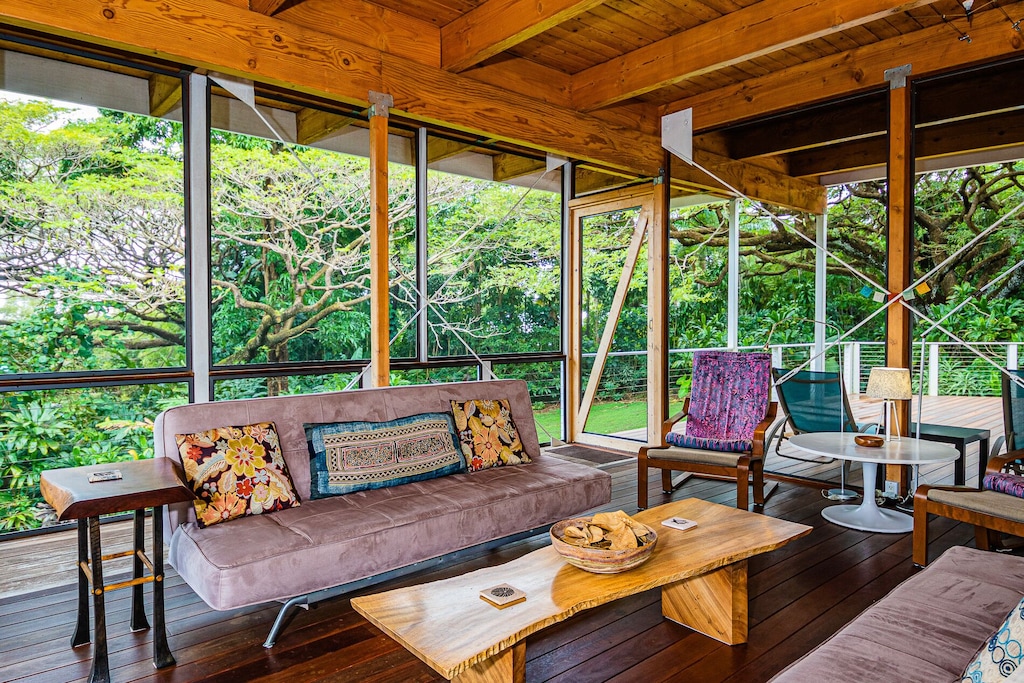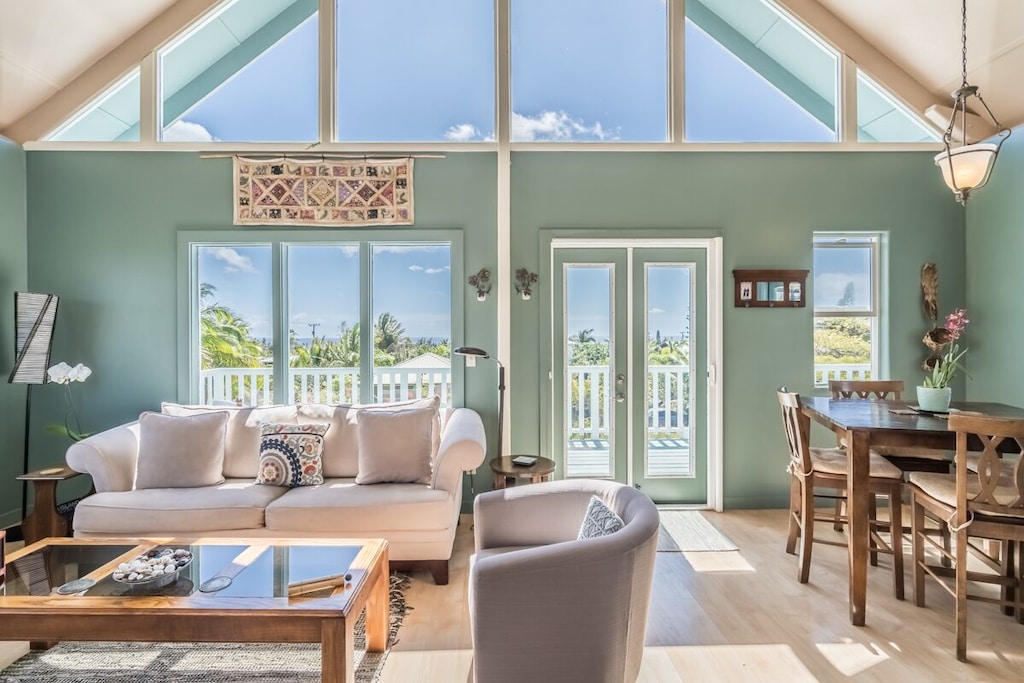 Blackish sand beach on Kauai
While some travel guides mention a black sand beach on Kauai, Waimea Beach is really more of a salt and pepper colored beach. But, even though the sand isn't all that black, it's a gorgeous beach with an idyllic pier. You can even see Niihau, the Forbidden Isle, from this beach.
Blackish sand beach on Molokai
We haven't been to Molokai, where the Kalaupapa Peninsula's Awahua beach is said to be black. This remote beach is very difficult to reach, the only options are a strenuous hike or an organized mule tour. The few pictures that we could find on this beach all show a dark color, but again no actual black sand. The sand originates from a dark sandstone and has a different composition than the other Hawaiian black sand beaches.
Map of the best black sand beaches in Hawaii
For your convenience, we've created this map indicating all black sand beaches in Hawaii as mentioned in this article.
To visit the famous black sand beaches in Hawaii, you'll most definitely need a car. Some of the beaches that we described are pretty remote after all. We used this website to to book our car rental, both on Maui and the Big Island, and were very happy with the no-strings-attached booking process and excellent service.
Other black sand beaches in the world
Hawaii may be the only place in the United States where to find black sand beaches but there are more black beaches in the world. Some also consist of fragmented basalt formed by quick-cooling lava but others are deposits of rocks, rich in mineral mixtures and gemstones. Here are some of the best-known black sand beaches in the world:
Reynisfjara Black Sand Beach in Iceland.
Playa Negra beach in Puerto Rico.
Playa Jardín and other beaches on the Canary Islands.
Muriwai Beach in New Zealand.
Point Venus Beach in Tahiti.
What's it like visiting one of the black sand beaches of Hawaii?
Putting your feet in the black sand for the first time feels very odd: since we're so used to associate the color black with dirt, you wouldn't expect to be able to brush it off. The black sand sparkles and when you let it flow through your hands, it almost seems as if the grains are little black diamonds.
I just love how the sea foam contrasts with the black sand every time a wave gently rolls in. The ocean seems to take on a much deeper shade of blue because of the dark-colored bottom.
There's less contrast between the blue water, the green vegetation and the black sand creating an unfamiliar but captivating setting. The sand is also much easier on the eyes than white sand that reflects the sunlight.
It can get so hot that you could easily burn the soles of your feet. Just relaxing on a beach towel and absorbing the warmth of the Hawaiian black sand truly is an incredible feeling.
Which one of these black sand beaches in Hawaii have you visited? We want to hear all about your experience? Or which beach will make your bucket list? Let us know in the comments.
…
Affiliate links are sprinkled throughout the site content. Clicking on such a hyperlink and booking on the accommodation platform it refers to, may result in a commission for CosmopoliClan at no additional cost to you. As Amazon Associates, we also earn from qualifying purchases. For more information, visit the Disclaimer page.
…