Time to plan your Hawaiian vacation? When we booked our first Hawaii island hopping trip, the initial excitement soon turned into panic when we realized the amount of research ahead. Is it easy to travel between Hawaiian islands? How far are they apart? What's the cheapest way to travel between Hawaiian islands? And what's the quickest way? Can you island hop in Hawaii by boat? And if there's a ferry service, do you book it in advance? How long does it take to travel between Hawaiian islands? And should you combine your Oahu trip with a stay in Maui or with a stay on Big Island or Kauai? Which are the best islands in Hawaii for families? And which ones are home to the most spectacular hotels or dreamy Hawaiian Airbnbs?
Planning your first trip island hopping in Hawaii can be intense. In order not to feel any bit as overwhelmed as we did, read this – before you book your flights – and you'll know exactly how to go island hopping in Hawaii. This is the essential travel guide we wish we had when we booked our trip. So, let's dive in and find out what's the best way to travel between Hawaiian islands.
…
Affiliate links are sprinkled throughout the site content. Clicking on such a hyperlink and booking on the accommodation platform it refers to, may result in a commission for CosmopoliClan at no additional cost to you. As Amazon Associates, we also earn from qualifying purchases. For more information, visit the Disclaimer page.
…
How to island hop in Hawaii
Island hopping in Hawaii by plane
Flying
to

Hawaii: Hawaiian airports by island
Let's have a look how many islands on Hawaii are open to visitors and which airports in Hawaii are best to embark on your adventure.
Oahu: The most popular island is home to the state capital as well as the only international airport in Hawaii: Honolulu Daniel K. Inouye International Airport (HLN). Because it's such a hub, flights from the mainland to this airport are often better priced than those to the other islands. So, Honolulu International Airport is a great choice to start island hopping in Hawaii.
Maui: The number of direct flights from the mainland of the United States to Maui's main hub, Kahului (OGG) is increasing which is why it's becoming a major competitor for Honolulu airport price-wise. Again, a good choice to start off and end your Hawaiian trip. When you're staying in Ka'anapali, nearby West-Maui's Kapalua airport (JHM) might be a valid option for inter-island flights but you'll likely be traveling in a smaller plane and thus spend more time in the air.
Kauai: The island's major airport is Lihue (LIH) to which only a handful of (mainly Californian) destinations fly directly. Most visitors will need to transfer in Honolulu. If you consider flying to Kauai directly, then note that it'll be more expensive. That's why Kauai might be the better choice as an in-between island.
Big Island of Hawaii: As the name suggests, this is the largest island which explains why there are two Big Island Hawaii airports: Kona (KOA) & Hilo (ITO). Only inter-island flights can land in Hilo. Some airlines offer direct flights to Kona from the mainland but it will cost you. So, just as for Kauai, we're recommend you to visit the Big Island from or in between Oahu and Maui.
Lanai and Molokai: There are no direct flights from the mainland to neither Lanai nor Molokai, only inter-island flights.
Flying
in

Hawaii: Airlines that travel between Hawaiian islands
At the time of publishing this article, these are the carriers that offer inter-island Hawaii flights:
Southwest Airlines operates between the Hawaiian islands. However, flights always start or end in Honolulu. So, if you want to fly from Maui to Kauai non-stop, then you're better off opting for another airline.
Lanai City is a luxury connection between Honolulu International Airport (HNL) and Lanai.
Cost of going island hopping in Hawaii
How much does it cost to travel between Hawaiian islands? Well, remember our excitement after booking that great flight deal for our family of four? Turns out it only lasted until we researched tickets prices for flights between Hawaiian islands. Is island hopping in Hawaii expensive? We think so, especially because the number of inter-island flights that are scheduled on a daily basis is pretty high. We therefore never expected to see these relatively high prices. An important Hawaii fact to consider when planning your itinerary.
Travel between Hawaiian islands cost outline (based on our Hawaii island hopping itinerary):
Day 1: Oahu (Honolulu airport – HNL) to Maui (Kahului airport – OGG)
Day 2-5: Maui
Day 6: Maui (Kahului airport – OGG) to Big Island (Hilo airport – ITO)
Day 7-14: Big Island
Day 15 : Big Island (Kona airport – KOA) to Oahu (Honolulu airport – HNL)
Day 16-20: Oahu
We paid a total of $249,60 (about €220) per person for these 3 inter-island flights. The second flight, the one from Maui to Hilo, was the most expensive one at $80 (about €70) per person despite being the shortest of the three. So, we finally did manage to find an okay deal but it took some figuring out the best dates, flight times and route for the most interesting Hawaiian island hopping itinerary. Of course, you could reduce the cost by spending your transferable credit card points or miles wisely.
Tip: Use this Hawaii travel cost calculator to budget your entire trip to the islands (Hawaii inter-island flights, rental car, accommodation, food and excursions).
Baggage fees
Before-mentioned ticket price does not include checked bags. Luckily our beach vacation packing list allows us to travel light because, for a family of four on a three-week trip, luggage supplements can significantly increase the total cost. On inter-island flights with Hawaiian, you pay $25 (€22) for the 1st bag and $35 (€31) for the 2nd bag. However, Hawaiian Miles members only pay $15 (€13) for the 1st bag and $20 (€17,5) for the 2nd bag so if you haven't registered for their loyalty program yet, then do so before you travel in Hawaii!
Choose the scenic side
You want to sit at the right side of the plane when you go island hopping in Hawaii, simply because the scenery is spectacular! Of course you could figure out yourself what that side is from the map but hey, you appreciate excellent service just like we do, now don't you? That's why we've gathered the best seating sides for Hawaii inter-island travel:
Honolulu → Maui Kahului: left
Honolulu → Kauai Lihue: right
Honolulu → Kona: left
Honolulu → Hilo: both
Maui Kahului → Honolulu: right
Maui → Hilo: both
Maui → Kona: left
Kauai Lihue → Honolulu: left
Kona → Honolulu: right
Kona → Maui Kahului: right
Hilo → Honolulu: right
Hilo → Maui: right
Flight times and airport infrastructure
Traveling between islands in Hawaii by plane will take anywhere from 30 to 50 minutes. Out of the 3 inter-island flights we took, 1 was delayed and 1 was canceled (we were rebooked after a 2-hour wait).
The airports of Kahului and Hilo were pretty decent and staff were very kind and helpful but Kona airport seemed very basic. We had to walk barefooted over a disgusting carpet – luckily, disinfectant wipes are part of my standard equipment – and were treated with anything but the aloha-spirit. At least the gate was the cutest we had ever seen.
Hawaii island hopping vacation packages
For those visitors who don't have the luxury of spending three weeks on the islands, like we did, day trips between Hawaiian islands are a great alternative.
Costco offers some really interesting deals on Hawaiian vacations. You can start from there and then add one or more day trips. It saves you the fuss of packing and planning and most importantly… it saves you precious Hawaiian vacation time!
Check out some this Pearl Harbour day trip from Maui or any of the other one day Hawaii island hopping packages at the Viator site.
Boating between Hawaiian islands
Hawaii ferry service
Prior to researching our options for island hopping in Hawaii, we had expected there to be a passenger ferry. Unfortunately, there's no actual ferry service between the islands in Hawaii anymore, except for the Lanai – Maui ferry (from/to Lahaina harbor). At the time of publishing this post, it operates five times daily. We can't talk from personal experience but we do imagine the views from aboard the ferry to be very scenic.
Contrary to what you may read on other blogs, the Lanai – Molokai ferry is no longer in use since 2016. The only way to island hop to Molokai is by air.
Hawaii island hopping cruise
The only real option to travel between Hawaiian islands by boat, is by booking a cruise. You can find several Hawaiian island hopping cruises at CruiseDirect or Expedia. Can I make a confession? We've never taken a cruise before. I do feel we would prefer prefer small-vessel cruises, comparable to low-key, boutique style hotels with personal service.

The UnCruise Hawaiian Seascapes adventures, for example, really appeals to us. With a capacity of just 36 persons, this is the only Hawaii island hopping cruise we would consider.
Map overview of the inter-island transportation options
For your convenience, we've created this map showing the airports and ferry ports in Hawaii.
The Hawaiian archipelago consists of many islands but only six of those islands are inhabited.
Oahu: 4 days or more
'The Gathering Place' is Hawaii's most popular island and home to state capital Honolulu. Apart from the famous tourist sites, such as Waikiki beach and Pearl harbour, Oahu is actually surprisingly rural. But since many tourists are keen on exploring the island's attractions, it can get quite busy. Its popular airport is the perfect place to start your Hawaii island hopping adventure.
The Oahu GoCity Card is the perfect travel companion. After all, with 100 things to do on Oahu, there are plenty of exciting sightseeing options. Visit Pearl Harbor, go snorkeling at Hanauma Bay, go waterfall hiking, hang out at the Dole Plantation, book a fishing charter from the Kewalo Basin harbor, take a Kailua Bay kayak tour, visit the Polynesian Cultural Center or go for adventure at the Kualoa Ranch. I really wish we had taken the time to experience more outdoor adventures in Oahu.
If you want to explore the Honolulu area and you're ready to book your attractions in advance, then we'd recommend to spend at least four days on Oahu. However, if you really want to discover what Oahu is all about then we would advise you to stay a bit longer, like we will next time.
We barely got to see the Honolulu highlights and shop for Hawaii gifts and souvenirs in the time that we spent on Oahu. Okay, I admit that we had a hard time leaving our superb Alohilani resort at Waikiki beach too but still….
Here are some suggestions on where to stay on Oahu during your Hawaii island hopping adventure:
For families: The Disney Aulani Resort & Spa or this beachfront Ko Olina villa.
The Big Island of Hawaii: 7 days or more
Often referred to as 'Hawaii Island', this island is all about purity and authenticity. This is the best Hawaiian island for families with a sense of adventure, nature-lovers and thrill-seekers. The landscape is incredibly diverse:
This is the youngest island out of all six inhabited ones and also the biggest, almost twice the size of the other three vacation islands combined. Therefore, it is recommended to divide your time over the two inhabited coasts, the lush east coast (Hilo area) and the sunny west coast (Kona area) with its white beaches. Check out our article on where to stay on the Big Island to find your perfect spot.
You should at least spend a week on the Big Island to take in all its beauty. If you want to add a few days to relax too, as you should, then you're looking at 10 days.
Here are some suggestions on where to stay on Big Island during your island hopping adventure:
For families: The Four Seasons Resort Hualalai or this fabulous villa on the grounds of the Mauna Kea Resort.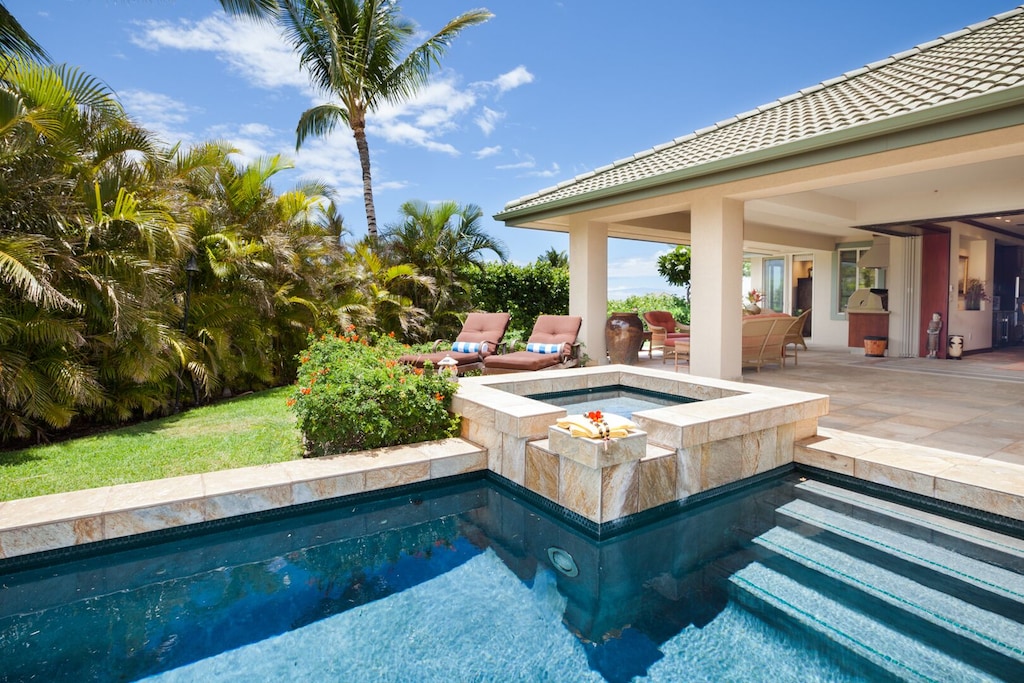 For couples: The gorgeous Holualoa Inn or this intimate cabin in the woods with its romantic firepit.

..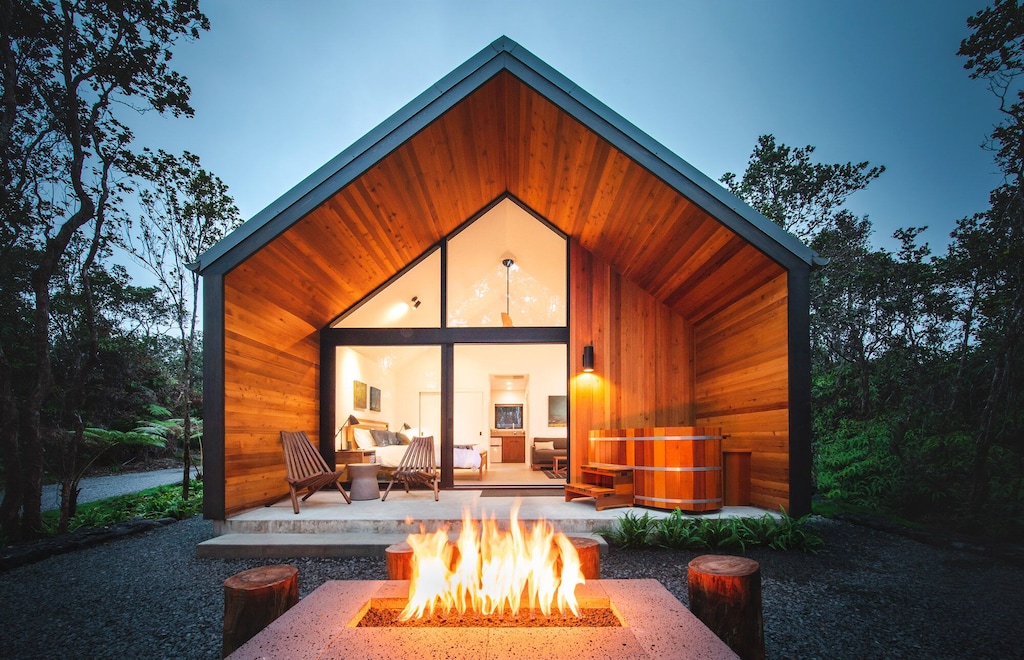 Maui: 7 days or more
'The Valley Isle' forms the perfect introduction to Hawaii. The island offers an excellent combination of gorgeous resorts, lush nature and the best beaches around. There are no cities, only some small towns so it never feels crowded (except when you're driving the Road to Hana but that's another story). Everyone will feel right at home in Maui.
So, whether you're looking for romance, family fun of thrills, Maui is the place to be. Check out our article on where to stay in Maui to find your perfect spot. Since our stay was just a day or so too short to see all highlights (and to make a second attempt to drive the Road to Hana), we'd recommend you to spend a week on Maui.
Here are some suggestions on where to stay on Maui during your Hawaii island hopping adventure:
For families: The Westin Maui Resort And Spa with its awesome pools or this oceanfront Hyatt Residence Club condo.
For couples: The Montage Kapalua Bay or this romantic cottage with private jacuzzi.
.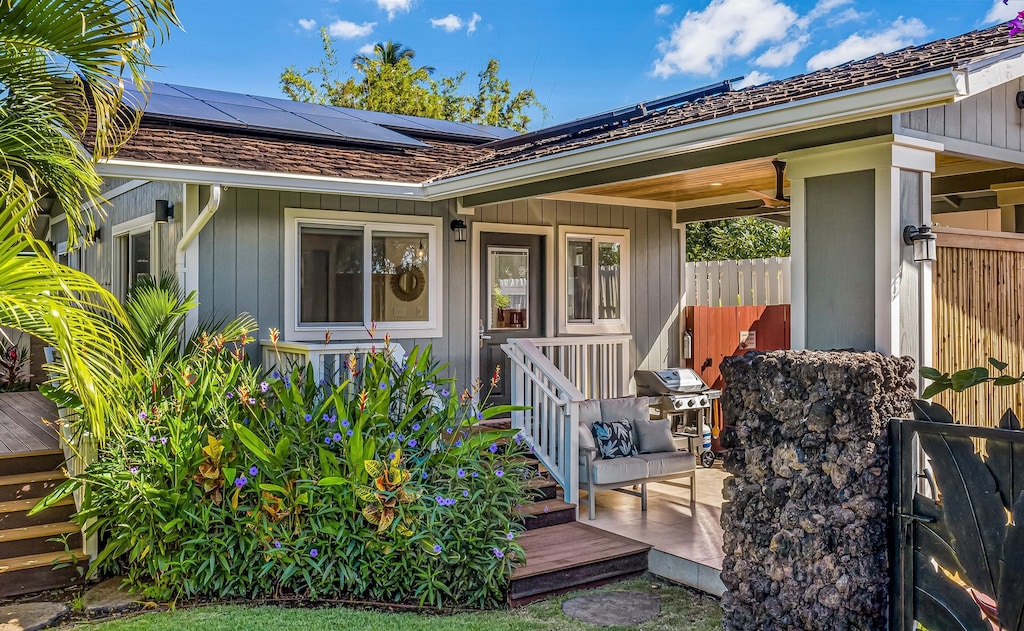 Psst… We have a separate website entirely dedicated to Maui accommodation. From fabulous hotels in Maui to amazing vacation rentals in Maui, it's a curated selection of the best places to stay in Maui. All Maui regions and budget categories are represented. Plus, all accommodations are organized in bite-size lists. Check out some of our top articles:
Kauai: 5 days or more
'The Garden Isle' is the one that got away… this time! We're already making plans to return to Hawaii in a year or two and then this little gem will be the first we'll visit. Kauai is the youngest of the Hawaiian islands but also the wettest one, especially in some areas. But that's not all bad because the rain results in the most stunning scenery. Thanks to its unique climate, Kauai is often described as the most beautiful Hawaiian island. Do carefully consider where to stay on Kauai to find your place in the sun because some areas are wetter than others.
From what we've researched, this Hawaiian island has the same adventurous soul as the Big Island but is a bit less accessible. That was also the reason why we chose not to include it in our planning. This actually turned out to be a good decision because the island of Kauai suffered some severe flooding when we were in Hawaii (april 2018). Here's a general overview of Kauai activities:
We feel that 5 days would be a minimum to spend on this beautiful island.
Here are some suggestions on where to stay on Oahu during your island hopping adventure:
For families: The Grand Hyatt Kauai Resort with its awesome pool complex or this enchanting cottage near Poipu.
.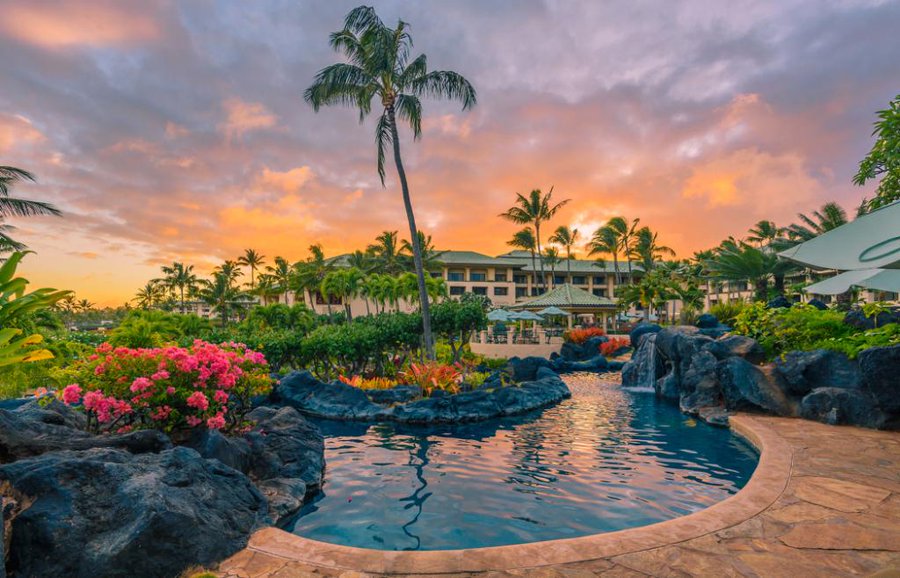 For couples: The soon-to-open 1 Hotel Hanalei Bay (former St. Regis Princeville) or this condo with its stunning views.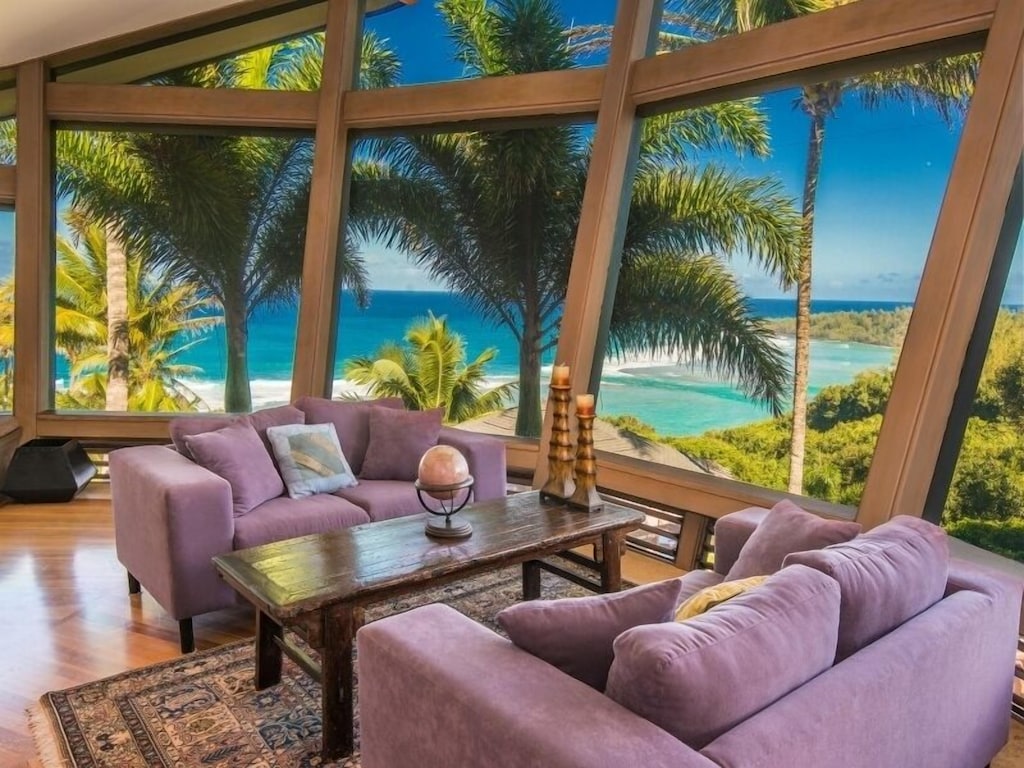 Molokai and Lanai: 1 day each
The other two inhabited islands, Molokai and Lanai, may be great for day trips but also for visitors who have been to Hawaii numerous time and are ready to travel deeper and more off-grid. Or maybe for the unconventional tourist who's looking for unspoilt beaches and rolling green hills untouched by tourism.
Suggested island hopping Hawaii itineraries for first time visitors
10-day Hawaii itinerary
A two-island combination of either Oahu, Maui or Kauai would be ideal to explore the best of the chosen islands but it won't allow much time for relaxation. We would personally suggest to start your 10-day Hawaii itinerary on Maui. It's the perfect place to recover from a jetlag and very well-connected to the mainland which might save you a layover.
2-week Hawaii itinerary
Again, a combination of two of the above islands would be ideal because at this pace you'll have plenty of time to spend to relax on one of the beautiful beaches. If you're more of an active type, you could try and squeeze in a third smaller island (just not the Big Island) or book a one-day island hopping package. Start in Maui and build up from there.
Or, if you're looking for a very active vacation, you could combine Big Island with Kauai for the ultimate outdoor experience in Hawaii.
3-week Hawaii itinerary
Three weeks is just enough time to combine the Big Island with two smaller islands, like we did. Or you can take spend your days on the three smaller islands at a slower pace. Whatever option you choose, after three weeks of island hopping in Hawaii you'll have explored some pretty amazing places.
.
Best time to travel to Hawaii
The weather may also be a deciding factor in selecting the islands for your Hawaiian island hopping itinerary. After all, rainbows and waterfalls wouldn't be there without the occasional shower. Each of the Hawaiian island boasts several climate zones, one more humid than the other. Hawaiian summer runs from May to October and has an average day temperature of 85° F (29.5° C). This is the second busiest time on Hawaii so prices are quite a bit higher than in the off-season.
Hawaii island hoppers should know that, during the winter months of November to April, the average day temperature is 78° F (25.6° C). Tropical storm season typically runs from July through November. Peak season in Hawaii are the winter holidays. If your calendar allows it, it would be better to avoid this busy time of year. It'll be crowded, you'll have to book some of the popular activities way ahead and prices skyrocket. The winter months also tend to be a bit rainier and the swells a bit bigger which may exclude a handful of snorkeling spots.
Also the trade winds are a big factor in Hawaiian weather. Coming from the north and east, these pick up moisture from the warm ocean waters and bring heavy rainfall to this side of the Hawaiian islands. That's why these northeastern sides are called the windward sides. Now you know why you'll find most of the lush nature and waterfalls on this side of the islands.
This picture was taken on the Road to Hana adventure which is clearly located on the windward side of Maui. We gave up after a while since it got too dangerous… Luckily, most Hawaiian resorts are located on the leeward side of the islands and the ocean temperatures are pleasant as always so you probably won't notice too much of it.
When will you go island hopping in Hawaii?
If you made it to this point, then you might consider yourself an expert at how to travel between Hawaiian islands.
It's an ambitious adventure, especially when you've traveled over 35 hours to even get to Oahu like we did. Oh yes, we did: a 3 hour drive to Amsterdam, an 8,5 hour flight to Washington DC, waiting at immigration for 2,5 hours, a 16 hour stopover and a 10,5 hour flight to Honolulu. Was it worth it? Totally! Would we do it again? In a heartbeat because it was our most epic travel adventure so far. Can you see yourself as a Hawaii Island hopper too? Let us know in the comments!
…
Affiliate links are sprinkled throughout the site content. Clicking on such a hyperlink and booking on the accommodation platform it refers to, may result in a commission for CosmopoliClan at no additional cost to you. As Amazon Associates, we also earn from qualifying purchases. For more information, visit the Disclaimer page.
…